Weaver gives update on Stepping Stone Sanctuary
Thursday, June 9, 2016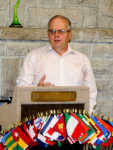 Jeff Weaver, pastor at First United Methodist Church in Trumann, spoke to the Trumann Lions Club last week and gave an update on Stepping Stone Sanctuary.
Stepping Stone is a shelter for those who are in need or are going through tough times, Weaver said. The shelter has a dorm to house up to eight men and a dorm to house up to eight women. There are also two family units that can house a family of five in each. "Everything you hear about the sanctuary, all glory goes to God for us having this place to help people," Weaver said.
Weaver told the group about the first resident at the facility, a young man named Daniel. "Daniel almost ran over a police officer one night as he was messed up on drugs. He came to work off his fines with us and ended up being the first resident when the housing part was opened," Weaver said. "We got him a job at Aaron's, and in just a short time they were ready to move him into management. We also made Daniel our night supervisor at the sanctuary. He's been clean the whole time he's been with us and is really doing well. He hopes to become a jailer for the county and eventually get into law enforcement."
"This is just one example of the lives we help at Stepping Stone," Weaver said.
All ages have been helped by the sanctuary. Weaver said families, veterans, and even a recent high school graduate have spent time at the facility. There have been about 30 residents since the living quarters were opened, according to Weaver. "We have rules that have to be followed in order to live with us. First and foremost is drug testing. I've went in at three in the morning before and given out the kits for them to test. I've not had to send anybody away for a failed drug test," Weaver said.
Weaver gave the group some numbers from the food pantry and soup kitchen. He said in the last two months, they have given out 111,282 pounds of food. He said the soup kitchen, which is open from 12-1 p.m., has served 2,245 meals. "You don't have be broke to come eat with us. I encourage everybody to come have a meal with us and see what all we are doing," Weaver said.