Douglas Moore among eight to be inducted into inaugural Army ROTC Hall of Fame
Thursday, June 9, 2016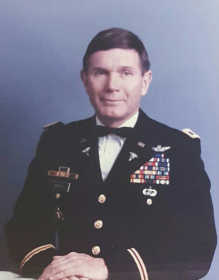 Eight alumni of Arkansas State University's Reserve Officer Training Corps (ROTC) program who went on to exceptional military and civilian service careers are being inducted into the U.S. Army Cadet Command Hall of Fame. The induction ceremony is Friday, June 10, at Fort Knox, Ky. Among them is Douglas Moore of Marked Tree.
The eight inductees are Col. (Ret.) Buddy G. Beck; Col. (Ret.) Douglas E. Moore; Dr. Eugene W. Smith; Maj. Gen. (Ret.) James E. Simmons, Ambassador James W. Pardew, Jr.; Lt. Col. John Lewis; Capt. Felix P. Settlemire; and Col. (Ret.) Ray A. Clardy.
The Hall of Fame honors graduates of ROTC who have distinguished themselves in civilian or military service who have made significant contributions to the nation and history of the Army ROTC program. Lt. Col., Michael Fellure, professor of military science, submitted a-State's nominees.
"We're very proud so many alumni of our program are being recognized at a national level," said Fellure. "There is no doubt that their success can be attributed to the support of the Jonesboro community and the Arkansas State University family. We're very gracious that even today, during our 80th anniversary, that ROTC cadets still see that same support from the community. We're looking forward to producing more distinguished officers for the Army for years to come. We have had a distinguished past and want to keep moving forward."
Additionally, the group will be recognized during Homecoming, Saturday, Oct. 15, and again on Veterans Day, Friday, Nov. 11, when the Arkansas State ROTC program hosts a reunion to celebrate its 80th anniversary.
Douglas Moore, from Marked Tree, graduated from Arkansas State in 1959 with a Bachelor of Science degree in agricultural education. As a commander of an ambulance helicopter in Vietnam, Moore is one of America's most decorated Vietnam-era soldiers, with two Distinguished Flying Crosses, a Purple Heart and the nation's second highest award for valor in combat -- the Distinguished Service Cross. Moore's awards also include the Bronze Star.
Moore retired after 30 years of active duty, accumulating over 3,500 hours of flight time, including more than 1,100 hours of combat flying time. He served more than nine years in the Pentagon as team chief for the Army inspector general and as the executive officer for the Army surgeon general.
He was also selected as an Arkansas State University Distinguished Alumnus in 1994 and inducted into the A-State ROTC Hall of Heroes during its inaugural event that same year.