New restaurant opens in downtown Harrisburg
Thursday, June 9, 2016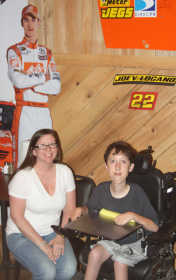 Since opening on May 27, business has been booming at Gavin's Downtown. The restaurant in downtown Harrisburg is a family affair, co-owned by siblings Mindy Grubbs and Hunter Zirbel. Mindy's youngest son Gavin, for whom the restaurant is named, also helps out as a host.
"We named it after him because he's definitely the most famous of all of us. Everybody loves him," Zirbel said.
According to Grubbs, the idea for a restaurant goes way back. "When Gavin was a little guy, from about two or three, he had always wanted a restaurant," she said. Prior to opening Gavin's Downtown, Grubbs had been a school teacher and principal for years while Zirbel had been a farmer. Eventually, Grubbs said she got burned out on teaching. She homeschooled Gavin for a year, and then he went back to public school. With him back in school, she grew bored and thought about finally opening that restaurant.
"I love downtown buildings and saw a huge need in the area for something like this. It's a good way to serve the community," Grubbs said.
Zirbel said he had originally wanted to open a small restaurant, but Grubbs pushed for a bigger place. Zirbel, who got his Culinary Arts certificate last year, works the kitchen while Grubbs manages the business side of things. They serve appetizers, salads, sandwiches, and burgers, along with lunch and dinner specials featuring items like steaks, pork tenderloin, and tacos.
They also have a sports-themed room in the back with Gavin's Nascar memorabilia. Gavin, who has muscular dystrophy that confines him to a wheelchair, got the chance to meet Nascar driver Joey Logano as part of the Make-A-Wish Foundation six years ago, and the two have been friends ever, with Gavin even serving as a groomsman in Logano's wedding.
"He's a great greeter," Grubbs said of her son. "He likes to visit with the people who come in, especially if they like sports."
Gavin also helps with running stuff back to the kitchen, stacking them on his wheelchair's tray. "A server can only carry about three plates, but I can carry a table-full of plates from a six-person table," Gavin said.
"It's been good for him. I think it's given him a purpose," Grubbs said.
Zirbel said the community's response during the restaurant's first two weekends exceeded expectations. "It's been remarkable," Grubbs said. "We're a lot busier than anticipated. Before we started, we had a bad scenario, a good scenario, and great scenario. So far, I think we have surpassed the great scenario."