Summer martial arts program started in Trumann
Monday, June 20, 2016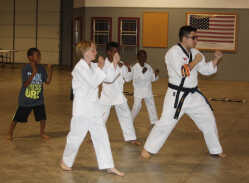 For kids--and adults--who are looking for something fun to do this summer, Action ATA Martial Arts of Jonesboro is doing a summer martial arts program at the Trumann Recreation Complex.
ATA (American Taekwondo Association) Jonesboro is run by the Gonzalez family: Masters Eduardo and Carolina, son Santiago, and daughter Angeles. Originally from Paraguay, Eduardo Gonzalez opened his first Taekwondo school there in 1991 and was named Best Instructor of the Year in South America in 1992. He and Carolina married in 1992 opened two more schools in 1993 and 1995. In the 2003, Eduardo was invited to become an instructor for ATA Martial Arts in Little Rock. Carolina and Santiago later became instructors there as well. The family moved to Jonesboro in 2014 to open their first martial arts school in the U.S. They currently have around 120 students at the Jonesboro school and work with all the school districts in Jonesboro to provide various programs.
The Trumann summer program, which began on June 7, came about after some local interest in having a program closer to home. "We saw there were not a lot of afterschool activities in Trumann and thought it would be a great place to go," said Santiago Gonzalez. "We have five to ten students from Trumann, and they told us we should look into starting a Trumann program so students wouldn't have to drive as far.
The Trumann program, which takes place Tuesday and Thursday evenings, is for three age groups: Tigers, ages 3-6; Juniors, ages 7-13, and Teens/Adults, ages 14 and up. The goal of the program is to introduce students to the basics of martial arts.
"Students will learn locks, strikes, punches, and kicks. We do nunchucks too," Gonzalez said. "And obviously it's not all about punching and kicking. It's about life skills like respect, discipline, focus, self control, confidence, perseverance, and setting goals. Punching and kicking are the tools we use to teach those life skills. And of course, it's great as an exercise program."
For now, the Trumann program will run throughout the summer, though Gonzalez said they hope to keep the program running longer depending on public response.
ATA is a worldwide organization with 300,000 members worldwide and 1,200 schools in the U.S. alone. For information on classes, call 870-972-8811 or visit atajonesboro.com.