Marked Tree Chamber set to launch shop local campaign
Friday, June 24, 2016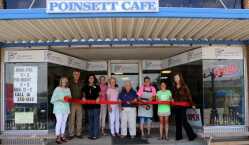 The Marked Tree Chamber of Commerce decided to proceed with the shop local campaign at their monthly meeting Tuesday.
Chamber president Brittney Smallwood had several samples of signs for those to attendance to vote on for. The signs will go in front businesses prompting citizens to "Love Where You Live--Shop Local." The group picked the one they liked best, and the signs will be ordered. Smallwood also said she will take all the designs around to businesses and let them choose which design they would like to hang in their window.
In other new business, the chamber voted to give $100 toward the banner that is made each for for the upcoming Cotton Pickin' Jubilee. The chamber also decided not to do a raffle at the event this year.
Smallwood suggested that the chamber start a Facebook page to get the chamber name out more and let the citizens see what is going on. The group approved this suggestion.
Marked Tree Mayor Mary Ann Arnold told the group that a Fourth of July celebration will be held at the sports complex with free hot dogs and watermelon for all those that attend. She encourages everyone to bring their fireworks there to be shot off. The chamber voted to give $200 toward items needed for this event. They think some businesses may donate items for the celebration. The chamber hopes to have the police and fire departments, along with the ambulance service, there to help with the event.
In old business, the chamber found out that the sealant for the mural has been bought and will be applied by Jamie McCrary once the mural under the train trestle is repaired. They will contact those who did the mural in hopes they will do the touch up work. The chamber also approved hiring someone to take care of the area around trestle, such as weeding and keeping trash and debris picked up.