Lions hear update on Health Center
Friday, June 24, 2016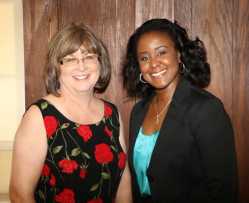 Cherry Thompson, Chief Operating Office of East Arkansas Family Health Center (EAFHC), was the guest speaker last week for the Trumann Lions Club. Loretta Hodge, with the Trumann Family Health Center, was also present to assist Thompson.
Thompson has been with EAFHC for 11 years, having worked as the HIV/AIDS Program Manager for six and a half years before taking over as the COO. "Not many can go to work and make a positive impact on lives. I get to do that every day," Thompson said.
Thompson gave the group a little history about EAFHC. With six locations serving Crittenden, Poinsett, Mississippi, and Phillips counties, the company's mission statement is to provide accessible, affordable, comprehensive, and quality healthcare and support services to the communities they serve, with an emphasis toward the traditionally under-served.
EAFHC was established as a non-profit organization in West Memphis in 1972. Two years later they opened as a medical provider in 1974 in Lepanto. The company added dental services in 1978. The Joint Commission on Accreditation of Healthcare Organizations (JCAHO) gave accreditation to EACHC in 1997.
With the growing HIV/AIDS population in Crittenden, along with the surrounding communities, the Arkansas Delta AIDS Care Center was opened. EAFHC opened another facility in June 2010 with Healthy Partners located in Blytheville (Mississippi County). Trumann Family Health Center opened its doors for medical services in March of 2010.
In 2012, EAFHC received a $5 million grant from Health Resources and Services Administration to build a new facility in West Memphis. "We had run out of room at our main location. We replaced the 38-year old, 7,700 square foot building with a 33,000 square foot state-of-the-art medical and dental facility. In October of that same year, Helena Family Health Center opened its doors in Phillips County," Thompson said.
With funding from New Access Point through HRSA, a sixth facility, Earle Family Health Center, was opened in Crittenden County on Dec. 1, 2015, joining the EAFHC family.
EAFHC treats patients of all ages using a comprehensive medical home model to provide a full range of primary medical and dental care. EAFHC also offers support services that focus on helping patients maintain compliance with their treatment plans.
"We have been very fortunate to grow like we have, and we hope to continue providing top service to our patients," Thompson said.