Bises named Poinsett County Farm Family of the Year
Friday, June 24, 2016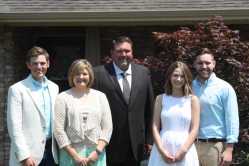 The Keith Bise family of Weiner are this year's Farm Family of the Year for Poinsett County. Keith and his wife Kristi have two sons, Ethan and Avery. And this weekend, they will welcome a new member to the family as Ethan will be marrying Hunter Clampit.
Keith grew up with farming as a major part of his life. His grandfather on his mother's side of the family farmed, and Keith used to run around with him on the farm as a kid. "Growing up, I spent a great deal of time during my weekends and summers with my grandfather, who farmed," Keith said. "From my childhood experiences with him, I learned my passionate interest in agriculture as an occupation."
Keith's father worked as an agricultural lending officer at the bank all his life. "He had done business with one of our landlords," Keith said. "When I was 13 or 14, my dad decided I needed a more permanent job in the summer, so he got me a job on the farm with Mr. Wolf." Keith farmed with Fowler Wolf throughout high school, and through that job he learned several skills that would become crucial when he started farming for himself.
In 1984, at the age of 19, Keith received his first production loan and started farming for himself. That first year, he farmed 300 acres. He increased to 600 the next year and steadily increased over the years. Today, he farms close to 2,300 acres.
The Bise farm's main crop is rice, and they rotate it with soybeans. They have about 1,200 acres of rice, with a yield of 185 bushels per acre, and about 1,000 acres of soybeans, with a yield of 47 bushels per acre.
Keith has seen a lot of changes to farming in the past 30 years. A major change has been the need to conserve water.
"Back then, the well water seemed to be plentiful," Keith said. "But every year, we've seen it deteriorate." He said they have seen the water table drop over the years and wells deepen at an alarming rate, so instead of pumping water from wells for irrigation now, they use more surface water, which is cheaper, saves energy, and helps the ground water replenish itself.
Keith also said technology has evolved at an incredible rate. "It's evolved to where you just about need a degree in computer science to operate the machines anymore. That's where the new generation comes in," Keith said.
The more advanced technology in modern farm equipment is particularly apparent when compared to an antique 1937 tractor the Bises have, where the only wiring is a three-foot long wire for the spark plugs, and that's it. "From there to now, the difference in tractors is a big change," Keith said.
The rest of the story is available in the Farm Family section in the June 23 edition of the Poinsett County Democrat Tribune.