Robert "Bob" Runyan
Monday, June 27, 2016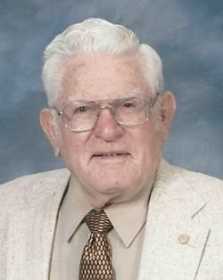 TRUMANN - Mr. Robert Edward "Bob" Runyan of Trumann departed this life Thursday, June 23, 2016 at Woodbriar Nursing Home in Harrisburg, Ark., at the age of 89. He was born Monday, July 5, 1926 in Newport, Ark., to the late Robert H. and Clara Turney Runyan. Mr. Runyan had lived the last 45 years in Trumann and was formerly of Newport. He was an Army veteran of World War II having served with the 90th Infantry Division. Mr. Runyan was a retired plant manager and spent 42 years in the cotton warehouse business with Federal Compress and Warehouse Co. of Memphis. He served for several years as a member of Trumann Housing Authority and as chairman the last three years. He was a member of Maple Grove Baptist Church and was a substitute Sunday School teacher in the adult department. Mr. Runyan enjoyed caring for Purple Martins.
He was preceded in death by his wife, Julia Joann Moon Runyan; one son, N.R. Runyan; one grandson, Beau Runyan; one brother, Jerry Runyan and his parents.
He is survived by one daughter, Lettie Smith and husband Bryan of Harrisburg; one son, Robert N. Runyan and wife Dorothy of Winslow, Ark; eight grandchildren, Mariah Runyan, Johanne Runyan, Catan Runyan, Natalie Runyan, Orion Runyan, Tanya Runyan, Jennifer York, and Lucas Miller; and 12 great-grandchildren.
The family desires that any memorials be directed to Maple Grove Baptist Church, 13509 Maple Grove Lane, Trumann, AR 72472.
An online register book can be signed at www.thompsonfuneralhome.net