Toppers win opening round of tournament
Thursday, June 30, 2016
Marion got a strong pitching performance from Nick Alsbrook and the Topper's offense jumped on Popular Bluff early before going on to post a 7-2 win in the opening round of the Paragould Glen Sain GMC tournament held at Francs Bland Park this past weekend.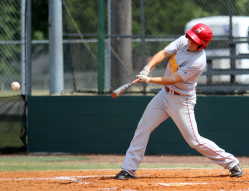 Poplar Bluff looked to get on the board in the top of the first inning as they loaded the bases with two outs before a line
out left the bases loaded. The Toppers plated four in their half of the opening inning. Gavin Stone opened with a single as Cam Smith flew out. Blake Daniels singled and Gavin Stone went to third after the fielder bobbled the ball. Alsbrook helped his own cause as he lifted a sacrifice fly that score Gavin Stone. Nolan Smith singled and was followed by Kollin Stone's single that plated Daniels to make it 2-0 Toppers. Trent Johns reached on an error before Matt Fraser was caught looking for out three. Poplar Bluff got a runner on via an error with one out only to see Alsbrook strikeout the next two batters. Bryce Logan reached on an error to lead off the second inning for Marion before stealing second base to get in scoring position. Gavin Stone grounded out moving Logan to third before Cam Smith scored Logan with a sacrifice fly to make it 5-0 Toppers. Daniels reached on an error before being forced at second on Alsbrook's fielder's choice grounder.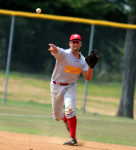 Full game story can be found in the June 30 edition of the PCDT!