Molder talks active shooter events
Friday, July 1, 2016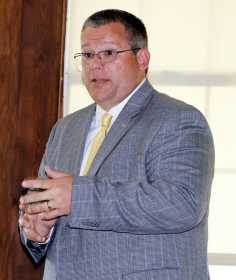 Kevin Molder, Chief Deputy with the Poinsett County Sheriff's Department and a candidate for Poinsett County Sheriff, was the guest speaker last Wednesday of the Trumann Lions Club. Molder spoke to the group about civilian response to active shooter events.
Molder spoke to the group about what to do in the event of an active shooter situation. He gave a handout that talked about Avoid, Deny, and Defend. "Doing these three things can help you get through an active shooter incident," Molder said.
Molder told the group that once the police are notified, it takes on average three minutes for them to respond and that your actions should be to keep yourself safe until help arrives.
"Avoid" was the first thing talked about in the short film Molder showed the group. It was a scenario of an active shooter situation. You should always pay attention to your surroundings, have an exit plan knowing where all the exits are located, and move away from the source of the threat. The more distance and barriers you put between yourself and the threat, the better.
"Deny" was next on the list. This can helpful when getting away is difficult or impossible. You want to keep distance between yourself and the source, create barriers to prevent or slow down the threat, turn off the lights and remain out of sight by hiding behind large objects and silencing your phone. Molder asked if the group noticed what the shooter did in the video when he came to a locked door. "The shooters are there to kill people. They won't waste time trying to get into a locked room," Molder said.
"Defend" is the last step one wants to take but may be a necessary one. Always be prepared to defend yourself if the first two options do not work. Be aggressive and commit to your actions, and do not fight fairly. This is about survival.
Molder gave the group some very important advice in finishing up his presentation. "Once the police arrive, show your hands. Do not put yourself in a situation that may cause the police to mistake you for the threat," Molder said.