Cossey strives to capture photo memories
Thursday, July 7, 2016
Anthony Cossey, sports reporter for the Poinsett County Democrat Tribune, has always enjoyed photography. His love for photography is evident in his photos, but it's those shots of a lifetime that keep Cossey shooting away.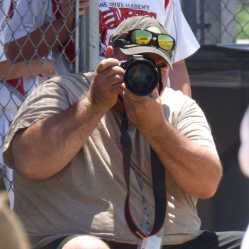 Cossey's biggest shot to date is now in the player area at Arkansas State University. Cossey was shooting the ASU-Utah State game back in 2014 when the game went into overtime. ASU scored a touchdown and Cossey was capturing the celebrations after the score. "I was just shooting from one side of the field to the other when I captured Head Coach Blake Anderson, Xavier Woodson, and Andrew Tryon doing a three-way high five after the score," Cossey said. "It was a great picture, and when I posted it that night, it spread like wildfire."
A few weeks later, Cossey was contacted by ASU to see if they could have permission to use the photo. Cossey had no hesitation in saying yes. "I was honored they wanted to use one of my photos. I couldn't wait to see it, and I wondered how big of a picture they would have framed on the wall. When I finally got to see it, I was shocked to discover it was a floor to ceiling section of wallpaper in the players' room. I was speechless," Cossey said.
"I've always loved taking pictures," Cossey said. "I can remember back when the bug first hit me. My wife, Kim, and I took our first big vacation to Florida, and on the way back we stopped in Alabama to visit family. I shot over 20 rolls of film during that trip, and I've been shooting every since," Cossey said. "My first camera was a little compact Minolta. I shot pictures with it until it quit."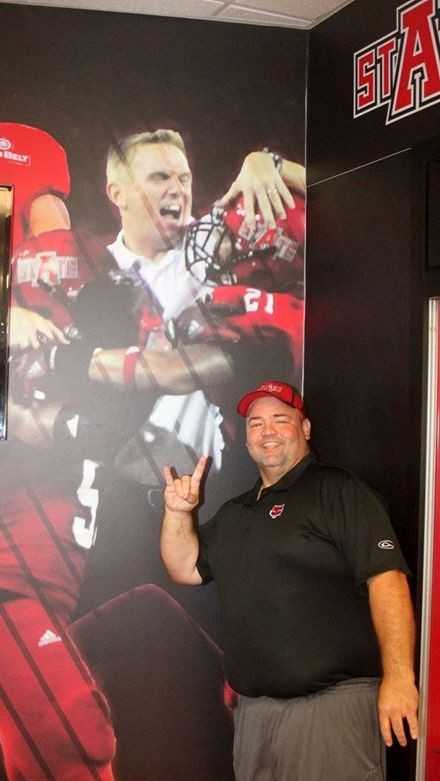 Cossey got serious about photography when he and wife took the position of houseparents at the Big Oak Boy's Ranch in Gadsden, Ala. "We were always doing something or attending an event with the boys. I still had a little compact camera, but it was a digital one this time, giving better quality photos," Cossey said. The ranch distributed a magazine called Timbers, and Cossey set his sights on getting some of his pictures in the magazine.
Cossey was still using that little compact camera, but his first trip to Disney World with the ranch made him get serious about taking pictures. "I took 900 pictures the week we were there, and I lost about 150 of those pictures to poor quality," Cossey said. "When we got back from the trip, I started looking at better cameras and ending purchasing my first Canon camera. Once I figured out how to use the new camera, I couldn't believe the difference in the photos I was able to capture." He finally got some pictures in the ranch's magazine.
Cossey started taking sports pictures of the boys who lived in his home as well as all the kids who played sports at Big Oak Ranch. "My love of photography grew even more when I started shooting sports. Capturing that catch, hit, basket, tackle, or kick became the next goal. Shooting pictures for the kids is so much fun, but trying to capture that one moment of a great play became my challenge," Cossey said.
During the years at Big Oak, Cossey had several photos in the magazine and was lucky enough to have a few of his pictures used for the cover shot. It was also during this time that Cossey met Chris McCarthy, who worked for the Gadsden Messenger newspaper. "Chris is a great guy, and I offered to send pictures of the Westbrook Christian sporting events to the paper. Chris liked the pictures and started putting them in the paper. I was lucky enough to cover a game during that time and write an article for the paper. What an experience," Cossey said.
When it was time to move back to Trumann, Cossey took a chance that the hometown paper was hiring. "I sent an email. They responded that they did have an opening, and we came in for an interview. I got a call a few days later with the job offer to sell ads and cover sports, and it's been a great ride so far," Cossey said.
Cossey has been lucky to cover some pretty big events over the years. "Arkansas State has been so good to me. They let me shoot just about any home event I can make. I covered the WWE when it came to Jonesboro a couple years ago, and I got to cover a couple Arkansas Razorback games a few years ago. I've been pretty lucky," Cossey said.
Cossey said there are several people who have played a big role in getting him where he's at today. "My wife, Kim, has been the most important as she lets me go and go all the time, and she's my biggest fan. Rhonda Hindman and Cindy Denton at Big Oak taught me to have that keen eye and what to look for in a photograph. Terry Hall at Westbrook Christian School in Alabama and Terry G. Hathcock at Black Creek Images answered all the questions I asked and gave me great advice on what equipment to use. Kent Gidley, the Director of Athletic Photography for the University of Alabama, helped me through all the chats we had over they years I was in Alabama, and Chris McCarthy gave me that first chance at working for a newspaper. Thanks for all you guys did for me," Cossey said.