Officials give updates at intergovernmental meeting
Friday, July 15, 2016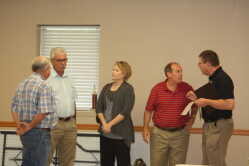 County and city officials met Tuesday in Lepanto for their quarterly Intergovernmental Council Meeting to talk about what was going on around the county.
County Judge Bob Cantrell said one of his office's big projects at the moment is working on the courthouse. New sidewalks have been put in around the county courthouse, and Cantrell said there are plans for landscaping and redoing the walkway, steps, and entrance. The county is also partnering with the city of Harrisburg to put in a sprinkler system. Cantrell said that while they are only working on the outside of the courthouse right now, he hopes to renovate the entire courthouse in the future. The main issue is getting the funding.
Cantrell said the county also partnered with the city of Harrisburg on another project: finishing up a box culvert on Cole Street. He said the county is still working on maintaining roads, building culverts, and bridges. "That's our goal, to make Poinsett County exactly what it needs to be," Cantrell said.
Lepanto Mayor Dale Dunlap said they are still trying to get the water line replacement done, which has been going on for about a year now. He also said they have been working on moving the police station to the other end of the ambulance bay. The police station building is old, but when they applied for a grant of $75,000 to renovate it, they ended up only receiving $5,000. So they decided moving the station into the ambulance bay nearby was a better solution. Dunlap said the move is almost complete.
Marked Tree Mayor Mary Ann Arnold said the city had a good turnout for their Fourth of July celebration. They served refreshments and had an area for children to shoot fireworks. She also said Carver Gym has been surveyed and is in the process of being deeded to the Bell brothers, Jarmel and Jeremy. "They have good ideas for the space, and it will benefit children and adults," Arnold said.
Harrisburg Mayor Randy Mills said a couple new businesses had opened up: Green Frog, a party store, and Gavin's Downtown, a downtown restaurant. He also said he was trying to get the word out to everyone to take the highway department's survey--available at http://www.wemovearkansas.com/metroquest.html--in the hopes that Northeast Arkansas can get some more highway funding. "In my area, Highway 14 is in dire need of resurfacing," Mills said. Dunlap agreed, saying, "The trucks going to the steel mill are really tearing (Highways) 14 and 140 up."
Trumann Chamber Director Neal Vickers said two new businesses had opened in Trumann, Mud Honey Boutique and Frog Fog Vapor Shop, with a new restaurant opening soon that will serve ribs and chicken.