Trumann Lions Club installs new officers
Friday, July 22, 2016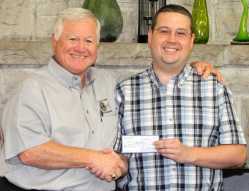 The Trumann Lions Club installed new officers last Wednesday at their weekly meeting. Brad Baker, CEO of Mid-South Lions Sight and Hearing Service, was on hand to install the new officers.
Sandy Teague, presiding over her last meeting as club president, said, "I grew up in Trumann, graduated here, and Trumann will always be home. I've loved serving you as president and look forward to help to continue the work we do."
Teague had a few thank you awards to give out. The awards went to Joe Waleszonia for his work on the golf tournament each year, Mayor Barbara Lewallen for her work on the senior banquet and the golf tournament, Patsy Bullock for her years as secretary/treasurer of the club, David Thompson for all the printing he does, Harold Williams for his work on collecting eye glasses, Gary Martin for running the flag program, Michelle Wood for taking over the secretary/treasurer duties, and to Kevin Molder, Bob Cantrell, and Craig Allen for their endless work each year on the annual barbecue. Teague presented Scott Richards with a president's plaque and turned the meeting over to him.
"Thank you so much for the honor to serve as your next president. I hope to continue the good work we do for our community and look forward to serving and working with each of you," Richards said. Richards then introduced Baker as the guest speaker.
Baker spoke to the group briefly before installing the new officers. Baker talked about choices. "Just think of the choices you made just this morning. When to get up, what to wear, what to have for breakfast, which way to drive to work. We've all made 50 or 60 choices this morning, but we make them every day, so we don't think about them. The choice to serve in a civic club is not a choice to take lightly," Baker said. "When you choose to join, it's a commitment to serve faithfully to the club and help to carry out the things the club supports and does for the community." Baker then asked all the new officers to stand as he swore them into their new positions.
The new officers and board members for 2016-17 are: President Scott Richards, President-Elect John Maley, Second Vice President Bob Sowell, Third Vice-President Craig Allen, Secretary/Treasurer Michelle Wood, and Past President Sandy Teague. Board members will be Betty Payne, Sharon Vest, Melvin Dycus, Ronnie Harrison, Patsy Bullock, and Donald Smith.