Cleo Smith
Tuesday, July 26, 2016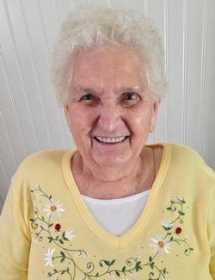 TRUMANN - Mrs. Cleo Octave Smith of Trumann departed this life on Monday, July 18, 2016 at her daughters residence in Bono, at the age of 89. Mrs. Smith was born Saturday, March 19, 1927 in Dardanelle, Ark. and lived most of her lifetime in the Trumann and Bay area. She was a housewife and of the Baptist faith. She was preceded in death by her husband, Sir Basil Smith; one son, Jerry Smith; three sisters, four brothers and her parents, Fulton and Vivian Young Williams.
She is survived by six daughters, Betty Jean Smith of Bay, Mary Ann Golden of Jonesboro, Evelyn (Ronnie) McMasters of Jonesboro, Gracie Smith of Bay, Sandy (Tommy) Hester of Jonesboro, Patty (Terry) Veal of Jonesboro; one son, Allan (Sandy) Smith of Yellville, Ark.; one sister, Jean Stephens of Peel Ark; nine grandchildren; 16 great-grandchildren and two great-great-grandchildren.
Funeral services were held Wednesday, July 20 in the chapel of Thompson Funeral Home with Rev. John Travis officiating. Private burial followed in Jonesboro Memorial Park Cemetery in Jonesboro, Ark. with Thompson Funeral Home in charge of arrangements.
An online register book can be signed at www.thompsonfuneralhome.net.