Trumann Animal Shelter moves to new facility
Friday, July 29, 2016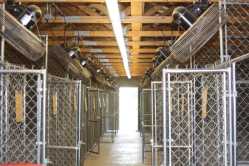 The Trumann Animal Shelter now has a new facility that is more publicly accessible. A ribbon cutting was held Thursday, July 21, to celebrate the animal shelter opening at its new location at 628 North Speedway.
According to Trumann Police Chief Chad Henson, the 1,800 square foot facility is quadruple the size of the old animal shelter. There are 18 stalls, each with its own fan, and another fan in the central corridor keeps air circulating throughout the building. Each stall has its own drain, and the moving air will minimize mold, making the facility more sanitary.
Henson said the new animal shelter is in a better location as well. "The old one was too close to chemicals, the water treatment facility, and--most importantly--the police firing range," Henson said. "We wanted to make something that was accessible to the public because there are so many great organizations like TAPS (Trumann Animal Pet Savers) that want to volunteer."
Henson told those gathered for the ribbon cutting that "we're going to try our hardest to keep this place empty." That's where TAPS comes in. Over the past two and a half years, volunteers with TAPS have worked to find homes for the dogs picked up by Trumann Animal Control so they aren't euthanized. Candace York, who is one of two volunteers--along with Brittany Smithson--who has been with TAPS since the beginning, said they have a great working relationship with Animal Control. She said since Johnny Johnson started as Animal Control officer about a year ago, they have not had any dogs euthanized due to overcrowding.
TAPS uses foster families to give dogs temporary homes so they have more time to find permanent homes for stray dogs. Since they started, they have saved over 500 dogs. The main pounds the group works with are in Trumann, Bono, Harrisburg, and Lake City.
"Our relationship with TAPS is excellent," Johnson said. "They do a fine job of finding dogs fosters and adoptions."
The volunteer group is always in need of donations since the adoption fee is $125, but the cost for TAPS to spay/neuter, give heartworm tests, and microchip each dog is $140 minimum. It's more if the dogs need heartworm treatment. Smithson said a lot of rescues will not take heartworm positive dogs, but TAPS does and takes care of their treatment. They also need more foster homes for dogs. "The biggest thing we need is fosters," York said. "Only two people live here in town that do the Trumann pound. It's not unusual for us to have 10-15 dogs."
The best way to contact TAPS--whether it's to foster, adopt, or donate--is through their facebook page. Additionally, people interested in fostering or adopting may call Johnny Johnson at the Trumann Police Department at 870-483-5121.
And the TAPS representatives said one of the most important things people can do to help combat the stray animal problem every city has is to spay and neuter their pets.