Elsie Lane
Wednesday, August 3, 2016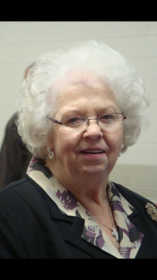 MARKED TREE - Mrs. Elsie Lane, 79, of Marked Tree, died Sunday, July 31, 2016, at the Flo & Phil Jones Hospice House. She was born August 25, 1936 in Savannah, Tennessee, to Taylor and Myrtle Hudson Paulk. She was a homemaker, who enjoyed spending time with family and visiting with friends.
Mrs. Lane was preceded in death by her parents; her husband, Rudolph Lane; sisters, Edith Buckmaster, Carrie Lee Stracener, Betty Beckham, Sue Garrard, and Margie Paulk; and brother, Sonny Paulk.
She is survived by her sister, Ann Bailey of Collierville, Tenn; son, Danny Lane, of Marked Tree; and daughters, Beverly Martin, Pam Branton, and Vicki Frans, all of Marked Tree, and Rhonda Boyer, of Jonesboro; grandchildren, Darrell Martin, Brian Lane, Jason Lane, James Frans, Kasey Dunavant, and Jessica Perry; and seven great-grandchildren.
Funeral services were held Wednesday, August 3rd, at First Baptist Church, Marked Tree. Burial followed at Marked Tree Cemetery with Breck Freeman and Dale Noe officiating.
Grandsons served as pallbearers. Lasting memorials may be made to Flo & Phil Jones Hospice House or the First Baptist Church of Marked Tree.
Online guestbook can be signed at www.rollerfuneralhomes.com/Jonesboro.