Kemper talks about Trumann Fire Department duties and needs
Saturday, August 6, 2016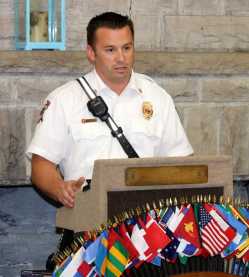 Trumann Fire Chief Revis Kemper spoke to the Trumann Lions Club last week about what the fire department does and the needs of the department.
Kemper's been fire chief for about six months, but he's been a fireman for almost eight years. Asking the group what they think the fire department does, most said putting out fires. Kemper said that was correct, but they do more than just putting out fires these days.
"We do more than just put out fires. We handle all types of fires: houses, vehicle, and grass fires, to name just a few," Kemper said. "The fire department is starting to do more on the medical side with our first responders unit. We answer quite a few calls for medical assistance now."
Kemper said there has been a rise in motor vehicle incidents this year with the department having been called out to 15 with injury and to numerous others without injury. He also said they have averaged three house fires a month so far this year and have taken over 330 calls this year.
The fire department also does fire prevention and public safety training. "We have the kindergarten classes out every year and let them tour the facility, look at our equipment, spray water out of a hose, and teach them stop, drop, and roll, along with exit drills in the home," Kemper said.
Kemper then talked about the upcoming one-cent sales tax election and the need for it to help the fire department. "With the equipment we are required to use today, I don't see how the guys from the old crew did it. They were a tough bunch," Kemper said.
With a crew of six full-time and 14 volunteers, Kemper said new manpower can help lower the city's ISO rating, which can mean a cut in insurance for both commercial and individual home owner insurance. "Our ladder truck is 44 years old. We are the only town in Poinsett County that is required to have one. We have to pour money into it each year to keep it running. A new ladder truck, along with new manpower, can get up to an ISO rating of three. We are a four rating now, which is the same as Marked Tree, Lepanto, and Harrisburg. If for some reason we lose our ladder truck, our ISO will go to a five, which would mean a five to seven percent increase in insurances premiums," Kemper said.
Kemper told the group that reaching an ISO of three is very attainable. "A new ladder truck, along with new manpower, will get up to that level. Without the sales tax increase the city just can't afford that kind of money. We need this tax so we can update our equipment so we can continue to protect the citizens of Trumann," Kemper said. "With the sales tax, everyone who comes to Trumann to shop will be helping us pay for this equipment."