Stepping Stone Sanctuary receives grant
Saturday, August 6, 2016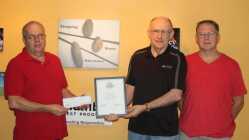 Stepping Stone Sanctuary recently received a grant in the amount of $2,000 from MFA Oil Foundation. The 501(c)(3) non-profit organization, located at 912 West Speedway, in Trumann serves as a homeless shelter, food pantry, and soup kitchen.
Since opening in April, Stepping Stone Sanctuary has helped many people get back on their feet. Jeff Weaver, who serves as director of the shelter, said people who have stayed at the shelter have found employment through the help of Tru-Cab and Aaron's and have been able to transition out of the shelter and into their own homes. The soup kitchen, which is open 12-1 p.m. Monday through Friday, is currently giving out roughly 2,000 meals a month.
At the moment, Weaver said they have 11 residents in-house. Weekly food handouts have served around 6-700 people, and the shelter has given out close to 200,000 pounds of food since they opened. Emergency food boxes are also a big part of the shelter's service. Weaver said last week, they gave out 53 emergency food boxes.
"We're already looking to expand. We're looking to purchase the land adjacent to us," Weaver said. "It's because of people like the MFA Oil Foundation helping us with grants that we'll be able to continue to grow."
Stepping Stone Sanctuary is also looking to expand beyond the Trumann community. Weaver said they plan to open a satellite facility in Lepanto this fall which will serve as a food pantry.
"We're a non-profit organization that runs off donations and grants," Weaver said. They are particularly in need of daily supplies such as toiletries, kitchen supplies, styrofoam cups and plates, and personal hygeine items. Anyone wishing to donate to the shelter may call 870-227-0259.