Marked Tree's food pantry growing under new directors
Saturday, August 6, 2016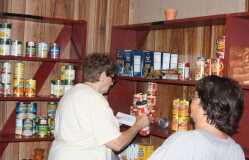 Since Connie and Jim Huff took over as directors of the Marked Tree's Three Rivers Food Pantry in June, there has a been a huge growth in the number of people served from Marked Tree and the surrounding communities.
When they started in June, they had three people come by in the first week. That number grew to 61 people by the end of June, and in the month of July the pantry served 146. Donations to the pantry have been up too. In June, the pantry bought--through the help of donations--288 pounds to give out while individuals and two churches donated 105 pounds of food. In July, the pantry bought 655 pounds of food and donations from individuals and two churches totaled 842 pounds of food.
For the Huffs, volunteering at the food pantry is a way of giving back to the community. Jim grew up in Marked Tree. After graduating from Marked Tree High School, he went into the military in 1969. Then he met Connie, and they lived in Wichita, Kan., where Jim worked in law enforcement for 37 years. They raised two children and have three grandchildren. After Jim had heart bypass surgery, he decided it was time to retire. Jim's three sisters lived in Marked Tree, so Jim suggested moving back to his hometown to be closer to them. The Huffs moved back in 2015.
The two heard about need for food pantry volunteers in May of this year. "They were saying they needed people to lead it, and it had been on the prayer list at church," Connie said. "We felt we needed to give back to the community."
The food pantry is located in the old armory (first door on the left) at the corner of Liberty Street and 9th Street. They feed anyone in need from Marked Tree and the surrounding communities, require very little paperwork--they have a simple one-page form to list household members and verify addresses--and take all donations. Currently, Connie said they are in most need of canned foods, beans, rice, and canned meats. And now that they have a freezer, they can accept items like hot dogs, bologna, and bacon.
The pantry is currently open once a week, 10 a.m. to 1 p.m. on Thursdays, though they kindly ask that people not show up before they open so they can get ready for the day. Connie called the amount of traffic in and out of the pantry a blessing. "It's going because we have chosen to involve the entire community--and communities--and they are supporting the effort. God is blessing that effort in ways we never dreamed of that fast," Connie said.
The pantry serves not just Marked Tree but Tyronza, Lepanto, and the communities in-between. "If people come from Weona or Payneway, we're not going to turn them away," Connie said. "We don't care where they come from, and we don't ask a lot of questions. The big thing is: there is a great need. People are hungry, and our job is to feed them. We feed until we have no food. That's why donations are so important." She said the pantry will start contacting businesses and organizations about being pledge partners who will pledge donations on a weekly, monthly, or yearly basis. Individuals can become pledge partners too.
The help the pantry has received has come from both Marked Tree and surrounding communities. The city of Marked Tree allowed the pantry to use another room in the armory to store food that needs to be frozen or refrigerated. The pantry has already received a donation of a freezer from a family in Lepanto and is still looking for another freezer or a refrigerator or two. The city of Tyronza donated chairs, so now people have a place to sit while waiting to be served. The pantry currently has 14 volunteers, a number which is steadily growing, who help out in any way they can. Connie pointed out one volunteer, Kyle, from Lepanto who works two weeks a month at the pantry. Connie said he works with the people who come in and helps carry their bags out, but he also wants to help the pantry get ready for the future. Last week, he was cleaning the room the freezer will go in--he also helped secure the freezer, which was donated by his in-laws.
Connie said the pantry will also have booths where people can donate food or money at the local festivals, the next of which are the Cotton Pickin' Jubilee and the Terrapin Derby.
"We've just come a long way in eight weeks," Connie said.