Resolutions top priority at Trumann council meeting
Saturday, August 13, 2016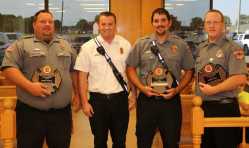 The Trumann city council passed five resolutions at their monthly meeting Tuesday.
In new business, the council voted to amend the personnel policy for fire department sick days. The policy states that 20 days will be allowed. That numbers were based on eight hour work days, and since the fireman work 12-24 hour shifts, the days were changed to ten days.
The first resolution passed was to amend the police policy procedure manual. The old resolution covered only a fraction of the manual, and new resolution will include the new sections added to the manual.
The next three resolutions were to remove items from inventory that the city no longer had, are needing to get rid of, or are trading in on newer equipment. One was for vehicles from the police department and street department, the second was for ammunition that is no longer needed by the police department, and the third was for a new roll-off hoist truck. All three resolutions passed.
The final resolution passed was for the city to lease the new hoist truck through BancorpSouth Equipment Finance.
During department reports, Trumann Police Chief Chad Henson told the council that the police department became only the third department to become accredited. "I'm very proud of our department and the hard work they put in daily to make us better," Henson said.
Trumann Fire Chief Revis Kemper gave out awards to Bubba Blackwood, Ralph Guthrie, and Robert Mabe for their life-saving actions for a victim that had went into full code. "These guys administered basic CPR until the paramedics arrived. Guthrie and Mabe rode with the ambulance and assisted all the way to the hospital. The lady made a full recovery," Kemper said.
Economic Development Director Neal Vickers praised the mayor and leaders of the city how they cooperate to take care of matters, and Code Enforcement Officer Gary Anderson reported that the house at 342 North Pine has been taken down and the area cleaned up and that work on the other houses on the condemned list are being checked on regularly.
The council also voted to move next month's meeting from Tuesday, Sept. 13, to Monday, Sept. 12, as the police department will be awarded their accreditation honor. Also before the meeting was adjourned, Chief Henson thanked Bonnie Winkles for her sizable donation to the police department for the purchase of new equipment.