Sewer line maintenance is another priority for Trumann
Saturday, August 13, 2016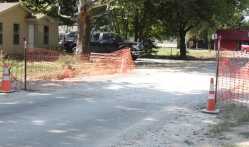 Trumann Water Works services around 3,100 properties with miles of water and sewer lines. While developing a new well is the top priority among the potential projects to be paid for using a proposed one cent sales tax, should it pass in Sept. 13's special election, Mayor Barbara Lewallen said maintenance to sewer lines is another major project the tax could be used to fund.
"There has been work done, but we still have a lot of aging waste water lines throughout the city," Lewallen said. "We're experiencing major problems, namely cave-ins."
Lewallen said she is aware of five sewer line cave-ins that have happened since last winter. The first major one was on Birch Avenue, whose 12-feet-deep lines carry around 40 percent of the city's waste water. "With aging lines, sewer gases corrode the tops of the lines. This causes them to start leaking and breaking in. We have very sandy soil and a high water table. Put all those conditions together, and you have a sewer line collapse," Lewallen said.
With the Birch Avenue lines, the city had to hire someone with the equipment to dig down to the pipes for the repair because the city does not own such equipment. But even after the repair, the water crew was not able to put the stablizing mixture below the pipes because they had to wait for the water table to go down. The hole has been covered with rocks temporarily to allow traffic to use the road, but the hole still hasn't been fully repaired because the water table has been so high due to the rain. Lewallen said she is hoping repairs can be completed by the end of the summer when the water table goes down, and bond money will be used to resurface the street.
That was the first cave-in. Since then, there have been sewer line cave-ins on Mulberry, two in the Sims addition, and one on Cypress. And again, they have been hard to close up until the water table goes down. Lewallen said the water crews have been busy, but their goal is to keep the waste water and clean water flowing, no matter the weather conditions.
"It's expensive," Lewallen said. "When you have so much aging infrastructure with so many breaks, it takes a toll on the Water and Sewer budget." Lewallen said the bond money has helped on some major water/sewer projects, such as getting sewer lines out to the other side of I-555 to make it possible to bring in new business across the highway, "but that plays out, and the cost of maintenance is ongoing. Replacement goes on and on."
"Water and sewer are not taxpayer-funded," Lewallen said. "Their money comes from the services they provide. They do have enough in the budget to continue services, but it really strains the budget to do major repairs and replacements."
Aside from sewer line maintenance, another water-related improvement Lewallen would like to see is the city moving to radio-read water meters. Cities like Harrisburg, Marked Tree, and Walnut Ridge have already moved to the new meters, which are more accurate and save time and money through increased efficiency.
Trumann Water Works currently spends anywhere from a week and a half to two weeks reading water meters, inputting the information, and rechecking possibly inaccurate meters to generate the water bills. Lewallen said radio-read meters can be read in half a day, so it would take probably two days to complete the entire process and generate the bills. "It would be a tremendous efficiency improvement," she said. "Instead of reading meters, the crew could be doing the more necessary work they normally have to take care of."
Another water project that will need attention soon is the waste water lagoon. The lagoon was developed in 1993 at a cost of $3.2 million, and the city is still paying the revenue bonds on it. "We have a good water works system," Lewallen said. "It is well maintained and operates as it should, but it's 23 years old. The normal life of a waste water lagoon is 25-30 years, so we need to realize that in the near future--say, ten years--we will probably be required to develop another lagoon. That's one of the things we've looked at in our long-range planning. And if it cost $3.2 million 23 years ago, it will probably cost more now. All of these projects that are proposed would be set up on a priority needs list. We all know the well is first."
The cost of materials for ongoing maintenance has been another hurdle for Trumann Water Works to overcome because in the last few years, according to Lewallen, that cost has risen 30 percent while water rates have not risen to compensate.
"With waste water improvements, as with water distribution, it's an ongoing process because they require replacement and updating. But once it's done, there is a great benefit in quality of life and operating efficiency," Lewallen said.