Jean Wagner
Thursday, August 18, 2016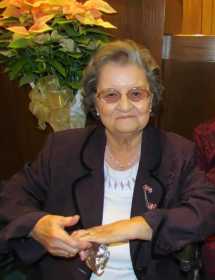 TYRONZA - Mrs. Jean Savage Wagner, 92, departed this life on Monday, Aug. 15, 2016, in Jonesboro. Mrs. Wagner was born Feb. 12, 1924, in Baldwin, Miss., to James and Mildred Savage. She was a homemaker and member of Broadway Church of Christ of Marked Tree.
She was preceded in death by her husband, Roy Edward Wagner; three sisters, Pauline Shepard, Lorriane Jones and Janie Sue Savage; four brothers, Paul Edward Savage, Herman Savage, Thurman Savage and Billy Joe Savage, and her parents.
Mrs. Wagner is survived by two daughters, Virginia (Charles E.) Williams and Shirley Hardesty both of Marked Tree; one son, Robert (Kathryn) Wagner of Irmo, S.C.; three sisters, Vernell Adams of Sikeston, Mo., Edna Mae Staten and Elouise DuVall, both of Trumann; four grandchildren, Rachel Wagner of Irmo, S.C., Brad Williams of Little Rock, Teresa Corneil and Carter Corneil, both of Athens, Ala.; and eight great-grandchildren.
Funeral services were held Wednesday, Aug. 17, at Wilson Funeral Home in Tyronza with Randy Mead officiating. Burial followed at Tyronza Cemetery in Tyronza under the direction of Wilson Funeral Home.