I-555 roll-over claims two lives
Friday, August 19, 2016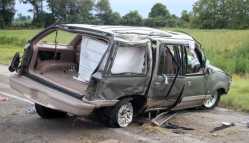 A tire blow-out caused a one vehicle wreck shortly after 6 p.m. Sunday afternoon that claimed the lives of two of the four passengers in the vehicle.
Justin Clements, 30, of West Memphis was the driver of the vehicle with passengers Marla Clements, 35, of Jonesboro along with two minors. According to the Arkansas State Police, the vehicle was traveling on the inside lane of I-555 North when the rear passenger-side tire blew out. The driver over corrected and left the road, striking the safety cables in the median, which caused the vehicle to flip. The vehicle came to rest on the outside lane of I-555 South.
The wreck caused three of the occupants to be ejected from the vehicle. Marla Clements and one minor were killed after being being ejected. Justin Clements and the second minor were transported to The Med and LeBonheur Children's Hospital in Memphis via helicopters from Hospital Wing. The conditions of the two were not known at time of press.
Emergency personnel from the Trumann Fire Department, Marked Tree Fire Department, Poinsett County Sheriff's Office, Arkansas State Police, Trumann EMS, and Medic One assisted at the wreck site.