Poinsett County Fair begins August 23
Friday, August 19, 2016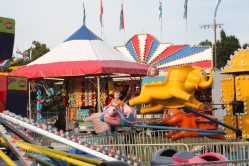 This year's Poinsett County Fair has been set for Aug. 23-27.
Below is a schedule of events for this year's fair located, as always, at the fairgrounds in Harrisburg just off Fairgrounds Road.
Gates will open at 5 p.m. The carnival rides will begin at 5:30 p.m. Armbands will be available every night for $18 each. However, anyone wanting to pre-purchase arm bands for the fair, at the price of $15 each, may go by the Modern News office in Harrisburg and purchase them from Angie Swanner.
On Tuesday, Aug. 23, there will be opening ceremonies at 5 p.m., with the Harrisburg High School JROTC presenting the colors, and several officials welcoming everyone on the Main Stage. JR Rogers and the All-Star Band will perform later in the evening. There will also be a Beauty Review on the Beauty Review Stage.
Wednesday, Aug. 24, is Gospel night. The Agape House Ladies and The Restoration House Ladies will be singing. There may be a few testimonies and some preaching going on also, followed by the Cornerstone Worship Band.
Thursday, Aug. 25, part two of the Beauty Review will take place. Immediately following the Beauty Review, there will be a Poinsett's Got Talent Contest. There are three age divisions, and the entry fee is $10 per contestant. The Youth Division, ages 10 through 15, and the Youth Division, ages 16 through 21, winners will receive a trophy and will go to the Arkansas State Fair in Little Rock to compete for a State Title. The Senior division, ages 22 on up, will receive a trophy. There are different categories. See Angie Swanner, at the Modern News, for an application, rules, and category listing.
Friday, Aug. 26, entertainment will begin at approximately 5:30 p.m. with a hot dog eating contest beginning at 7 p.m. and the Zyndall Raney Band beginning at 8 p.m. There is a $10 entry fee for the Hot Dog Eating contest, with two divisions available.
Saturday, Aug. 27, at 4 p.m. in the Beauty Review Stage area, there will be a PCW Wrestling Match with some special guests. At the same time, between the Beauty Review Building and the Horse Arena, There will be a race track set up for the Tiny Rides Race and The Little Rides Race. There is a $10 entry fee, and the winner, second and third place will receive a reward. This will be a race between children who enjoy driving their 12 volt battery operated Jeeps, 4-wheelers, cars, trucks, etc. Also, the parents cannot use the remote controls to help their child win. The Tiny Rides race will be between 2 and 3-year-old children and the Little Rides Race will be between 4, 5, and 6-year-old children. Contestants must bring their own rides.
On the Main Stage, beginning at 5:30 p.m., the Keith Morrison Band will start the night off, followed by the Crowley's Ridge Cloggers performing from 7 p.m. At 8 p.m. country music artist Ronnie McDowell will take the stage to finish off the 2016 Poinsett County Agricultural Fair. JR Rogers from All Star Music, has graciously donated a guitar to the Poinsett County Agricultural Fair. Tickets are being sold for a drawing in which Ronnie McDowell will draw the winning number and then autograph the guitar.
This is the first time the Poinsett County Fair has ever hosted an entertainer such as Ronnie McDowell. Following the death of Elvis Presley in 1977, McDowell had a song that became his first country and only pop hit, his self-penned tribute song "The King Is Gone," which he recorded on the independent Scorpion record label. The record took off immediately, gaining airplay on country and pop radio stations across the United States and around the world. To date, "The King Is Gone" has sold more than five million copies. McDowell scored a second hit for the Scorpion label entitled "I Love You, I Love You, I Love You" before being signed by CBS Records Epic in 1979. McDowell charted a string of hit singles and albums for Epic between 1979 and 1986. Every single release, except one, became a Top 10 hit, including "Older Women" and "You're Gonna Ruin My Bad Reputation." Other hits during his Epic years included "Watching Girls Go By," "Personally," "You Made A Wanted Man Of Me," "Wandering Eyes," "All Tied Up," and "In a New York Minute."
The Poinsett County Fair is the only county fair in the state of Arkansas that does not charge an admission. However, this year tables will be set up at each gate to accept donations. All of these donations will be spent on improving the fair and the fair grounds.
Currently, the Fair Board is trying to revitalize the fair by encouraging schools, Extension Homemakers Clubs, and various other clubs to submit items for exhibits, and a planning process has begun to build a new Exhibit Building. This year, the fair board is also allowing speciality food vendors to set up at the fair. Please contact Ann Parker (870-351-1327) or Tammie Stanford (870-578-7646) for more information. Anyone with any questions regarding the fair should contact Angie Swanner at 870-578-2121.