County teams prepare for season with scrimmage games
Thursday, August 25, 2016
Trumann hosted Marked Tree, Piggott and Hazen this past Monday in a high school football jamboree at Wildcat Field.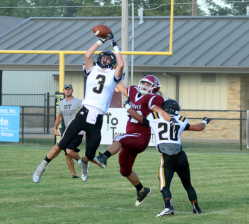 Marked Tree took the field in the first 30 minute session against Hazen and then squared off against Piggott in the second session. Marked Tree head coach Cody Wallis was pleased with what he saw from his team. "We came out with great intensity and played well in the first game," Wallis said. "AJ Johnson had a long touchdown run as I thought we moved the ball pretty well. Our defense played good, Kentarius Allen had an interception that would have been a score" Wallis added.
Against Piggott in the second game, Wallis said his team got punched in the mouth and wasn't expecting it. "They brought it to us with the run game and hit us hard. We made some adjustments and got better toward the end of the game. Same with our offense, we didn't play real well early but started clicking later in the game," Wallis said. "I was happy with what I saw. There are a few things we need to work on in preparation for our week one game," Wallis added.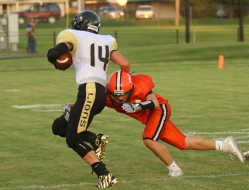 Trumann opened with Piggott in the first session and then played Hazen in the second session. Coach Scott Waymire liked what he saw but said there are some things his team needs to work on. "It gave us some things we need to work on to get prepared for Hoxie in week one. I was pleased with our kids conditioning, they never looked tired on the field," Waymire said. "I was pleased with our number two's, they came in and moved the ball well," Waymire added. Trumann had trouble keeping hold of the football and the defense let some sure tackles get away. "We have to do a better job of hanging on to the football. We didn't tackle well, didn't have that intensity at the point of contact," Waymire added.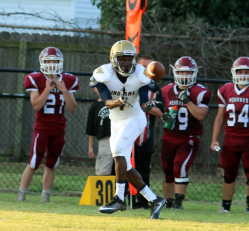 Harrisburg took to the field Tuesday night when they hosted Manila for a pre-season game. The Lions jumped out to an early lead before Harrisburg could get on track with a short touchdown pass from Clay Wright to Dylan Mathis. "We started out terrible. They jumped on us early before we got our first score," Harrisburg Coach George Benintende said. The Hornets found the end zone again in the second half with Gavin Casebier taking a short pass and out running everyone to the end zone. Manila added two more scores before the game ended. "I'm pleased with the way me played. They never gave up after getting down early. I loved the fight we showed. We do have a few things we need to work on before opening night gets here," Benintende added.