Waymire is Trumann High School's new principal
Friday, August 26, 2016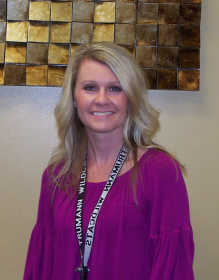 Michelle Waymire took over as the new principal for Trumann High School this year. Waymire is in her 11th year in education. She taught sixth, seventh, and eighth grades at Carlisle School District, served as assistant principal at Cedar Park Elementary in Trumann, and served as assistant principal for Trumann High School.
"Education was basically the thing I was always interested in, even as a teenager," Waymire said. "Now that I have my own kids, it means so much more."
Waymire said she got into education because she had many influential teachers in school when she was growing up--such as her high school basketball coach Daryl Blaxton, who is now superintendent at Pocahontas--and she wants to influence young people as well.
Waymire believes the school plays a big role in kids' lives. "School is the place kids are going to learn structure outside of the home," Waymire said. As such, she's been implementing some changes with the aim of bringing more structure back to THS.
Waymire said she is trying to make positive changes to the school and hopes the environment created will better prepare students for life beyond the hallways of school. Among some of the changes she mentioned: outside drinks are no longer allowed, only clear water bottles; the bells have been brought back, which Waymire said have been working in helping students get where they need to be more quickly; and students will now have their own spots in the parking lot, which they got to choose.
"I have a really good assistant principal, Reilee Jones, who helps enforce al the things I think are important for our kids," Waymire said.
"The first week has gone really well. It's just been an adjustment for some, but I can tell they're adjusting," Waymire said.