Gertrude Stevens
Wednesday, August 31, 2016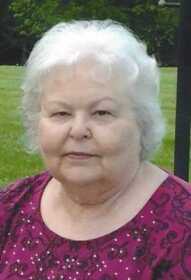 FESTUS - Mrs. Gertrude Stevens, 74, of Festus, entered into eternal rest on Thursday, August 25, 2016 at her residence in Festus. Mrs. Stevens was born on September 30, 1941 in Marked Tree, Ark. to the late Charles Edward Madden and Hazel Juanita NeeVannatter Madden. She worked as co-owner with her husband in their own business, Stevens Heating and Air-Conditioning for 44 years. She enjoyed reading, doing yard work and planting flowers. She was a member of the First Baptist Church of Horine.
Mrs. Stevens is survived by her loving family; husband, Johnnie Stevens of Festus,; son, Johnnie (Angel) Stevens of Branson, Mo.; daughter, Joyce Stevens of Festus; six grandchildren, Kristine Stevens of Anchorage, Alaska, Johnathan Stevens of Park Hills, Johnnie Stevens III of St. Louis, Jennifer Stevens of Branson, Jamie Richey and Crystal Richey, both of Hillsboro; two brothers, Ernest (Goldie) Madden of Trumann and Johnny (Pam) Madden of Jonesboro; and one sister, Barbara Lairson of Ravenden.
Pastor Randy Casey officiated the private services in Festus.
Graveside services were held Saturday, August 27 in Marked Tree Cemetery under the direction of Thompson Funeral Home in Trumann.
An online register book can be signed at www.thompsonfuneralhome.net