Opal Lee Brown
Wednesday, August 31, 2016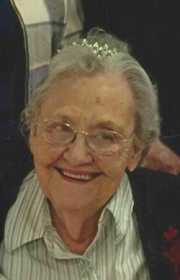 TRUMANN - Mrs. Opal Lee Brown of Trumann departed this life Saturday, August 27, 2016 at North Delta Hospice in Southaven, Miss., at the age of 92. She was born Thursday, February 7, 1924 in Trumann and had lived most of her life in the Trumann and Jonesboro area. Mrs. Brown was a housewife and a member of the First Baptist Church in Trumann. She was preceded in death by her husband, Melvin Brown, Sr; one son, Don Brown; three sisters; two brothers and her parents, Ira and Robbie Lee Cockrum.
She is survived by one daughter, Erma (Carlton) Ashley of Southaven, Miss; one son, Dr. Melvin (Becky) Brown of Conroe, Tex.; two sisters, Tommie Crouch of Trumann and Unia McBride of Washington, Ill; six grandchildren and eight great-grandchildren.
Funeral service will be Thursday, Sept. 1 at First Baptist Church, 1301 HWY 69 in Trumann at 6:00 p.m. with Dr. Melvin Brown officiating. Graveside service will be Friday morning at 10:00 a.m. at Oaklawn Cemetery in Jonesboro under the direction of Thompson Funeral Home of Trumann.
Visitation will be Thursday evening from 5p.m. to 6p.m. at First Baptist Church, 1301 HWY 69 in Trumann.
The family requests memorials be made to First Baptist Church, P.O. Box 575, Trumann, AR 72472.
An online register book can be signed at www.thompsonfuneralhome.net.