Where are they now? Darius (Ivy) Daniel
Thursday, September 1, 2016
Darius Ivy was a multiple sport athlete during his high school career at Marked Tree. Excelling on the football field, Daniel was a two-time all-state and three-time all-conference player for the Indians. Daniel was also all-state in basketball playing guard and forward. When it came time to decide on a college to further is athletic career, Daniel chose Missouri State University in Springfield, MO.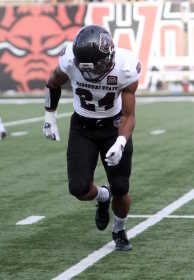 I had a chance to have Daniel answer a few questions for me about what it's been like to not only play college football, but to also handle the academic side of being an athlete.
Daniel is a redshirt junior majoring in Sports Administration entering the 2016-17 school year. The first question I asked Daniel is the difference in high school and college football? "The speed of the game is so much faster. You have to really work on your fundamentals and the mental aspect of the game," Daniels said. "In high school you can get the better of your opponent by being more talented but at the collegiate level everyone is talented. You have to gain the edge mentally with film study and preparation," Daniel added. Daniel had to go through a coaching change early in his career and was asked if the transition was hard. "No. I bought in quickly and I'm excited in the direction the new staff is taking us. We are really united as a team and we have big goals that we are working hard each day to obtain. We are taking it one play at a time," Daniel said.
Missouri State played Arkansas State last season in Jonesboro and Daniel said he was happy to get to play in front of his family and friends. "It was really a great experience. I was able to play in front of the same fans that watched me play in high school. I really have a lot of support in the state of Arkansas," Daniel said. "Before I knew that playing college football could be a reality for me, I played for the pride of Marked Tree every Friday night so being able to play close to home, where a lot of people who normally couldn't make it to my games, meant a lot to me.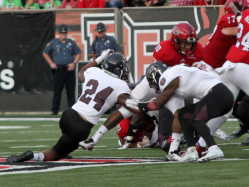 Daniel said the hardest thing about being an athlete in college is time management, especially when you first come out of high school. "Mom and dad aren't there to get you up and make sure you are doing what you need to do. My day consists of: Wake up and go do weights before you go to classes. Then you try to get a meal in before practice and then after practice you have study hall and you have to get all your work done from what you learned that day," Daniel said. Daniel also said it's hard at times being so far from home. "Miss seeing my brothers grow up has been hard. I know I'm making my family proud but missing holidays, birthdays, family cookouts and not getting to see D'Angelo's (brother) high school games has been hard.
The last question asked Daniel was what would he tell others who aspire to be a college athlete? "It's not easy. Only two percent of high school athletes go on to play college ball. You have to make many sacrifices and put a lot of time into your respective sport. This means not always getting to do what the other kids are doing. You have to work hard and have faith. Grades are a big factor because the recruiter will want to know how you are doing in the classroom first," Daniel said.
Daniel had two tackles as a redshirt freshman seeing action in six games mostly on special teams. He saw action in seven games as a sophomore with three starts. Daniel missed the last four games with an injury and finished the year with 21 tackles, 15 of those being solo tackles.