Wooldridge talks about Crowley's Ridge Development Council
Saturday, September 3, 2016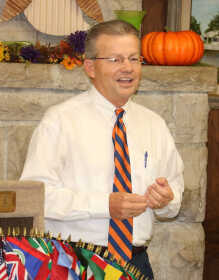 Tim Wooldridge, Director of the Crowley's Ridge Development Council (CRDC), spoke to the Trumann Lions Club last Wednesday.
Wooldridge, who is a Paragould native, has been the the director of the CRDC for a year now and is excited about all the things they have to offer. "I think the CRDC is the the best kept secret in Northeast Arkansas," Wooldridge said.
CRDC is one of 16 community action agencies in Arkansas and serves the eight counties in the Northern Delta including Craighead, Greene, Poinsett, St. Francis, Jackson, Cross, Crittenden, and Woodruff counties. The $9 million organization has a staff of 71 employees. "We are your community action agency and we are open for business," Wooldridge said.
CRDC offers a variety of services to the communities they serve. They offer weatherization, substance abuse treatment, regional prevention program (RPP3), senior citizens services, USDA child and adult food program, and Northeast Arkansas Transit (NEAT). On the Human Services side they offer family enrichment program, information and referral, food pantry, utility assistance, energy conservation training, household budget training, limited services, and housing projects. "Our goal is to help those in impoverished and fragile situations," Wooldridge said.
Wooldridge said he is trying to establish a non-profit office that can help the organization with things such as write-ups to submit for grants. "I was with a person the other day, and they said they had applied but weren't sure they had filled the papers out correctly. I want to get them the help they need to make sure they have every chance to get the funds they need," Wooldrige said.
Seeing a need for beds for those that need assisted-living is high on the list for Wooldridge. "We want to try to correct this and give those in need of assisted-living the help they deserve," he said.
Wooldridge ended with one of his favorite quotes: "You will be judged by what you do for those that can't do a thing in return for you," and with an Africa proverb, "To not know is bad, to not want to know is worse, to not hope is unthinkable, but to not care is unforgivable."