Trumann mayor talks aging Parks and Rec facilities
Saturday, September 3, 2016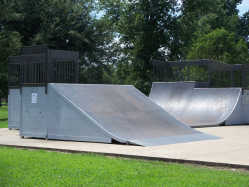 According to Trumann Mayor Barbara Lewallen, many of the city's Parks and Recreation facilities could use some renovation and expansion. She is hoping those improvements can be made as part of citywide improvements supported by a sales tax increase, which is up for vote on Sept. 13.
Even some of the city's newer park facilities are nearly 15 years old. "When Ronnie Harrison was mayor in 2002, the city built the Sports Complex and splash pad on Pecan Grove Road and the skate park in Cedar Park," Lewallen said. "These facilities are really great. They are used so much and enjoyed, but they are aging and require quite a bit of maintenance and upgrading."
She said bond money has been used to buy conditioner for the ball fields to make them among the best around and to work on electrical problems at the Sports Complex. But the underground sprinkler system at the Sports Complex no longer works now. Lewallen said she would like to repair the sprinkler system and--in the near future--add a couple fields to help the city continue to draw tournaments.
As an example of tournaments Trumann has hosted, Lewallen said last weekend's tournament involved 31 teams who used all four fields at the Sports Complex, the two fields at Fleming Field, Cedar Parks' field, and the high school's field. The tournament brought around 2,000 people to the city, and with two more fields, the city could host large tournaments at the Sports Complex. Lewallen said Fleming Field is great but needs a lot of upgrades and does not have enough parking.
"When we have tournaments at the Sports Complex, the splash pad is always used, and it's used all through the summer season by our local citizens," Lewallen said. This year, the city had to replace the splash pad's pump. "Fortunately, we had bond money. We spent $4,500 on that. We're also looking to replace fencing at a cost of around $5,000. If we added another pad or expanded, it would take around $300,000," Lewallen said.
The TRC building at the Sports Complex, which is also nearly 15 years old, needs maintenance work too--including replacing the air conditioner, reworking the kitchen area, and working on the restrooms. Lewallen said the skate park has been popular with skaters of various ages, and after nearly 15 years, the ramp surfaces have worn out and are in need of replacement. That cost is estimated at $104,000.
Regarding the other parks in town--there are seven total including those already mentioned--Lewallen said, "We could use more picnic tables, playground equipment, and pavilions." She added that while the city received bond money for the parks, they had to use so much of it for repairs that they have not had as much to put into park enhancements. She said the city tries to plant trees and add tables and playground equipment as they can. But an additional hurdle is that park equipment has to be ADA approved and durable enough to stand up to all kinds of weather, which means they can be expensive.
"We see all of our parks as necessary for quality of life in the different neighborhoods. They're all important, and we want to do what we can for each one," Lewallen said.