Familiar face returns to Jonesboro rodeo
Thursday, September 8, 2016
When rodeo fans make their way to the NE Arkansas Pro Rodeo at the Convo in Jonesboro next week, they'll be greeted by a familiar face. That face is Lecile Harris, and Lecile is delighted to return to Jonesboro to work as the pro rodeo clown for this year's rodeo.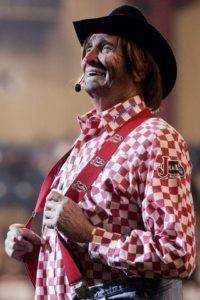 Lecile has been a fan favorite for many years of rodeo in Jonesboro and 2016 marks his 61st year in the business. There haven't been many years in his life when we haven't been involved in rodeo. He started as a bull rider but quickly switched over to the bullfighting profession. He also had a music career as a session drummer at the famous Memphis Sun Studio in the 50's and 60's. But the rodeo career won out over music. "I didn't want to live the musician's lifestyle, nightclub and overnight jumps. Rodeo is a cleaner business, and a lot better people to work with and for," he commented. "The athletic part of fighting bulls and the fun part of comedy were the two things that won me over to rodeo." Despite over a half century in the business and way over the average retirement age, he has no plans to quit. "I have so many bullfighting injuries, I think if I ever sat down and quit, I'd rust up like an old plow."
The pro rodeo world has honored Lecile for his excellence in the profession. He has won the PRCA Clown of the Year four times and was inducted into the Pro Rodeo Hall of Fame in 2007. His impeccable timing and creative and spontaneous humor have become legendary among rodeo clowns. His acts, like the Wrangler Roadster, 7th Inning Stretch and Hole in One, leave rodeo fans laughing and wanting more.
Central Chevrolet is sponsoring Lecile this year at the rodeo. Come out and see Lecile in person at Central Chevrolet on Thursday, Sept 15 from 11-2. Better yet, come to the rodeo and see him in his element -- down in the dirt with his microphone on high.
Rodeo performances are September 16-17 at 8 PM each night at the ASU Convocation Center. For more information and tickets, go to www.NEAProRoeo.com.