Junior Hornets down Marked Tree in county battle
Thursday, September 8, 2016
Poinsett County foes Marked Tree and Harrisburg opened the junior high football season this past Thursday night in Marked Tree. The Junior Hornets posted a 20-6 win.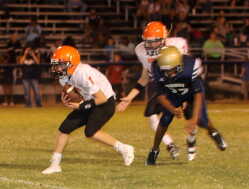 Cameron Wray gave the Junior Indians the lead right off the bat as he returned the opening kick-off 80 yards for a touchdown. The two-point conversion try was no good making the score 6-0 Marked Tree with 7:46 left. Harrisburg was forced to punt on their first series and they pinned Marked Tree on their own three-yard line with a 41 yard punt from Cody Lawson. Harrisburg forced the Junior Indians to put but was flagged for roughing the kicker giving Marked Tree a first down. The Junior Hornets defense put points on board as Seth Moore grabbed a bobbled ball and took in ten yards for the score to make it 6-6 with 2:07 left. Lawson's extra-point was blocked.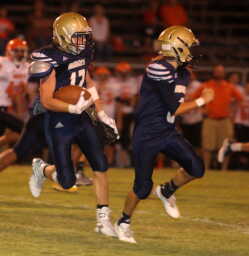 Pick up a copy of the PCDT on newsstands now or buy a newspaper or online subscription!