EPC opens football season with win over Augusta
Thursday, September 8, 2016
EPC (1-0) held on for a 36-28 win over Augusta this past Friday night in their football season opener at Warrior Field. The Warriors had to make one final defensive stand with less than two minutes left for the win.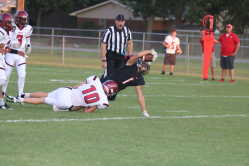 Augusta received the ball first and was forced to punt on their first series. The snap was over the punter's head and when he retrieved the ball he just tossed it downfield. EPC's Des Barnes grabbed the errant pass and returned it to the Red Devils 28-yard line with 9:48 left in the opening quarter. EPC drove the ball toward the goal line and Eric Driver capped the drive with a 12 yard touchdown run with 9:06 left to make it 6-0. The two-point try was no good for the Warriors. Augusta evened the score on their next possession as they converted a fourth and twenty before their quarterback sprinted in from ten yards out to make the score 6-6 with 1:23 left. The two-point try by Augusta was no good. Matt Brown recovered the ensuing squib kick giving EPC the ball on the their own 46-yard line. Two plays netted zero yards as the first quarter came to an end with the score tied at 6-6.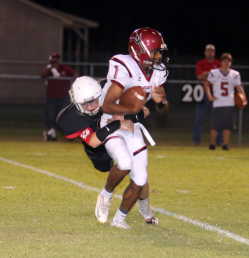 Full story in PCDT on newsstands now!