Trumann Police Department fourth in state to receive accreditation
Friday, September 16, 2016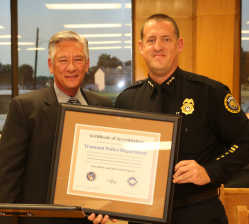 The Trumann Police Department was honored by the Arkansas Law Enforcement Accreditation Program at the Trumann City Council's monthly meeting Monday night.
Director Gary Sipes of the Arkansas Association of Police Chiefs presented Trumann Police Chief Chad Henson with the certificate showing that the police department has met all 188 standards, becoming only the fourth agency in the state to receive accreditation. "Your department met those standards and in most cases surpassed them," Sipes said.
Henson praised his department after accepting the award. "If the guys on the department hadn't bought in on the policies and standards, I wouldn't be here tonight accepting this award," Henson said. "The work begins now as we have to uphold those policies and standards, as we will be audited every three years."
Also on the agenda was the passage of a proclamation designating Oct. 4 as Go Pink For The Cure Day. October is National Breast Cancer Awareness Month. The council also waived the permit for the carnival to set up for the Wild Duck Festival.
Resolutions to destroy old administrative records, approve signatures on city accounts, and to file a lien on 342 Pine for the city taking down a house that had been condemned were approved. The council gave a 30 day extension on a house at 613 Paschal that was up for condemnation.
A house on 340 Holly Street was also up for condemnation as a representative from the property owner, Homestead Crossing Inc. out of Willow Springs, was there to tell the council they were going to sell the property to Tim Cooper, who was going to renovate the house so it could be rented to a family or possibly sold. Several residents in the area were in attendance and spoke their disapproval. The council voted to proceed with the condemnation and informed the representative from Homestead that the house would have to be taken down, but the company will still own the lot.