Booker leads Marked Tree past Harrisburg
Monday, September 19, 2016
Julian Booker accounted for four touchdowns this past Friday night as he rushed to two scored and passed for two more as Marked Tree (2-0) beat their county rivals Harrisburg (0-2) 58-20 in high school football this Friday at Don Lovell Memorial Field in Marked Tree.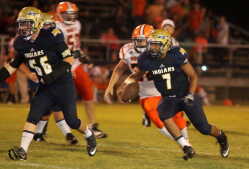 Harrisburg jumped out to an early lead as Gavin Casebier returned the opening kick-off 78 yards for touchdown to give the Hornets a 6-0 lead. Harrisburg tried a little trickery on the extra-point as Jett Jackson took the snap and raised up and tried to hit Casebier but the pass fell incomplete. Marked Tree answered with a score of their own as Paul Coleman took the inside hand-off and bounced outside before sprinting 45 yards for the touchdown. The two-point run was no good to make the score 6-6 with 10:36 left. Coleman struck again less than a minute later as he scooped up a fumble an raced 46 yards to the end zone to make the score 12-6 Marked Tree. Booker added the two-point conversion making the score 14-6. Another turnover would plague Harrisburg again as Booker intercepted a Clay Wright pass and returned it to the Hornets' 47-yard line with 6:17 left. The Indians drove down the field, converting a fourth and six along the way, before Booker scrambled to the Marked Tree eight-yard line before being hit out of bounds moving the ball to the four-yard line. Booker hit Gavin Lowry with a four-yard touchdown pass and Coleman added the two-point conversion run to make the score 22-6 Indians with 3:32 left in the opening quarter. A bad exchange between Wright and Tayeshaun Warren put the football on the ground where Marked Tree's Braidin Hall recovered. The Indians capitalized on the turnover as AJ Johnson would score from six yards out to make the score 28-6 Marked Tree. Jack Brown ran in the two-point conversion to make it 30-6 Marked Tree with 18 seconds left. After off-setting personal foul penalties after the kick-off return, Malik Versie took the hand-off on the first play and dashed 64 yards for a Harrisburg score to make it 30-12 Indians. Noah Benintende's extra-point was no good.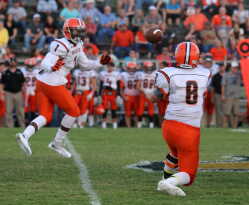 Full game article in September 15 edition of the PCDT!