Rodeo produces two nights of action for fans
Thursday, September 22, 2016
The NEA Pro Rodeo concluded it's two-night event this past Saturday with a night packed full of action. A good crowd was on hand to see who came on top in eight categories. Universal Pro Rodeo provided all the livestock for the event.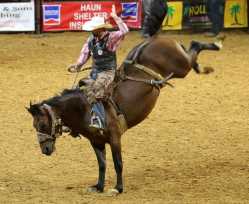 The first event of the night was bareback riding with most all riders making the eight second horn. After the final horn Taylor Price came out on top with his 81 point ride on Roan Wasp. Wyatt Ortega was a close second with 80 points as Paden Hurst and Jon Luse tied for third with a 78.
Steer wrestling was next up as Tooter Silver took top honors with a time of 4.5 seconds. Chance Howard came in second with a time of 4.9 with John Carpenter finishing third with a time of 5.3 and Will Lummus in fourth with a time of 5.4.
In the team roping competition, Nelson Wyatt and Derick Freeman top first place with a time 4.6 seconds followed by Jesse Stipes and Buddy Hawkins II with a time of 4.8. Two teams tied for third as Joshua and Jonathan Torres along with Bart Brunson and Trace Potter each posted a 4.9.
Weston Pierschbacher posted an 80 point ride to win the saddle bronc riding edging out Jordan Corrigan who had a 79. Treyson Antonick was third with a 78 and Curtis Garton took fourth with a 74.
Tie-down roping was the next event as Hadley DeShazo roped and tied-down his calf in 8.7 seconds. Nelson Wyatt and Marcus Theriot tied for second with a time of 8.8 as Jared Kempker took fourth place with a time of 9.2.
The ladies were up next to race around those barrels and they didn't disappoint the crowd. Lorie Manning finished the three-barrel course with a time of 12.49 seconds to claim top honors. Laura Kennedy had a 12.53 to finish in second place with Cindy Clifford taking third with a time of 12.73. Kristen Darnell and Layna Kight tied for fourth with a 12.80, Kelley Carrington was sixth with a 12.88, Conny Winkers took seventh with a 12.94 and Marne Loosenort placed eight with a 13.06.
The bull riding saw only two riders over two night have an eight second ride as the bulls were ornery this weekend. Eli Vastbinder posted the top score as he rode Nip Tuck for an 85 point score. Jay Morrow took second with an 82 point ride.
Nelson Wyatt was named all-around cowboy with his win in team roping and his second place finish in the tie-down roping competition.
Lecile Harris, pro rodeo hall of fame clown, was on hand to keep the crowd entertained and he did not disappoint. Being this reporter's first rodeo to attend I'll say it was all I thought it would be. I thought the biggest winner of the night was the kids in attendance. The smiles I got to witness and the attention I saw on the faces of kids who may have dreams of being out in that arena someday...priceless.