Turnovers costly in loss for Junior Wildccats
Thursday, September 22, 2016
Turnovers proved costly for Trumann (1-2, 0-1 4A-3) as Highland scored off a turnover on downs and returned a fumble for a score as they blanked the Junior Wildcats 20-0 in junior high football this past Thursday night at Wildcat Field.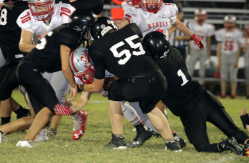 Dedrick Coleman returned the opening kick-off to the Trumann 43-yard line bringing out the Junior Wildcats offense. The offense lost two yards on their first three plays and were forced to punt the ball away to Highland. The Junior Rebels took over on their own 43-yard line with 5:36 left in the quarter. Highland moved the ball into Trumann territory before fumbling the ball with the Junior Wildcats recovering at their own 44-yard line with 3:46 left. Trumann converted a fourth and one with just over a minute left to keep the drive going as the quarter came to an end.
Full game article in September 22 edition of PCDT!