Mattie Massey-Brown
Tuesday, September 27, 2016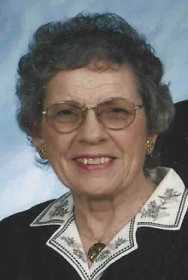 TRUMANN - Mrs. Mattie Elizabeth Massey-Brown of Trumann departed this life on Thursday, September 22, 2016 at the Atkins Health and Rehabilitation Center in Atkins, Ark., at the age of 86. She was born in Calhoun County, Miss., to the late William Albert and Birdie Lenora Sanders Thompson and had lived most of her lifetime in Trumann. She was a housewife and a faithful member of the First Baptist Church in Trumann. She was preceded in death by her first husband, Leon Massey and her second husband, Eugene F. Brown; one sister, Sherry Thompson; one brother, Charles Thompson and her parents.
She is survived by two daughters, Rhonda Fleming and husband Craig of Russellville, Ark. and Valerie Fielder and husband Brian of Jonesboro; one son, Kurt Massey and wife Teressa of St. Roberts, Mo; two step-sons, Dr. Steven Brown and wife Cynthia of Pensacola, Fla., and Dr. Mark Brown and wife Melissa of Jonesboro; 12 grandchildren, Jennifer Saxton, Erik Enderlin, Tonya Anderson, Samatha Massey, Jeremiah Fielder, Branden Fielder, Matt Fleming, Eric Fleming, Kristin Brown, Laura Brown, Julianne Brown and Emily Martin; 12 great-grandchildren and one sister, Annette Crow of Texas.
Funeral services were held Sunday, Sept. 24 at First Baptist Church in Trumann, with Rev. John Maley officiating. Graveside services were held Monday, Sept. 26 at Jonesboro Memorial Park Cemetery in Jonesboro, Ark. under the direction of Thompson Funeral Home in Trumann.
Grandsons will serve as pallbearers.
The family request memorials be made to First Baptist Church, P.O. Box 575, Trumann, AR 72472; Alzheimer's Arkansas, 201 Markham Center Dr., Little Rock, AR 72205 and to the UAMS Schmieding Home Caregiving Training Program at www.uamscaregiving.org/jonesboro.
An online register book can be signed at www.thompsonfuneralhome.net.