Junior Hornets drop conference game to Cave City
Thursday, September 29, 2016
Harrisburg (2-2, 0-2 4A-3) could not find a way to stop Cave City's offense as the Junior Cavemen jumped out to a 14-0 first quarter lead on their way to a 30-0 win in 4A-3 conference play this past Thursday at Hornet Stadium in Harrisburg.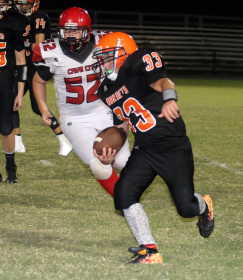 Cave City got the ball first to start the game and promptly put together a scoring drive that took up almost three minutes to make it 6-0. The two-point conversion was good to make it 8-0. Harrisburg started their first drive on their own 27-yard line before turning the ball over as Drew Wright's option pitch to Ross Heeb hit the ground with the Junior Cavemen recovering the loose ball at the Junior Hornets' 26-yard line. Cave City converted two fourth down plays with the second being for a touchdown to make the score 14-0 with 28 seconds left in the quarter. The two-point play pass was no good. Harrisburg started their next drive on their own 32-yard line with 15 seconds left in the opening quarter. The quarter ended with Harrisburg in possession of the ball trailing Cave City 14-0.
The teams traded punts for most of the second quarter before Cave City found the end zone again. After a penalty for returning the punt after a fair catch with 1:57 left in the half, the Junior Cavemen only needed 47 seconds to stretch their lead to 20-0 as they connected on a long touchdown pass. The two-point run was good to make the score 22-0. Brennon Honeycutt returned the ensuing kick-off out the the Hornets' 32-yard line with one minute left before halftime. Wright overthrew his intended receiver with 29 seconds left turning the ball over to Cave City. The Junior Cavemen were looking to add a score only to see Honeycutt come up with an interception near the goal line on the last play of the first half as Cave City took a 22-0 lead at the half.
Full game story in September 29 edition of PCDT!