Ottie Qualls
Wednesday, October 5, 2016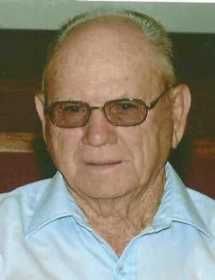 TRUMANN - Mr. Ottie Gene Qualls of Trumann departed this life Tuesday, October 4, 2016 at the family residence in Trumann, Ark., at the age of 86. Mr. Qualls was born Saturday, May 17, 1930 in Savannah, Tenn., and lived most of his life in Trumann. He was a retired farmer and of the Baptist faith. Mr. Qualls was preceded in death by his wife, Ellen Ruthie Qualls; one great-granddaughter, Madison Vaughn; four brothers, Lee Vernon Qualls, Earl Qualls, W.E. Qualls and J.C. Qualls; four sisters, Mary Lou Austin, Elsie Hopkins, Emma Lee Austin, and Marie Baker; and his parents, William Elmer and Rosie Smith Qualls.
He is survived by four daughters, Shirley Vaughn of Trumann, Peggy Byram of Trumann, Janet Blancett of Lake City and Penny Maxwell of Trumann; two sisters, Wilma Reeves and Faye Jenkins of Trumann; nine grandchildren, Kim Sims, Brandy Byram, Derek Blancett, Amanda Eaton, Lindsey Byram, Logan Maxwell, Nathan Maxwell, Dylan Wright, and Hannah Maxwell; and 7 great-grandchildren, Jimmy Dye, Kelton Sims, Keaton Rogers, Blaze Eaton, Kenlee Sims, Alston Blancett, and Shelby Cheyenne Wright.
Funeral service will be Thursday at 1:30 p.m. in the chapel of Thompson Funeral Home in Trumann with Billy Floyd Baker officiating. Burial will follow at Jonesboro Memorial Park Cemetery in Jonesboro.
Pallbearers will be Logan Maxwell, Nathan Maxwell, Cory Sims, Derek Blancett, Brandon Wright, and Dylan Wright. Honorary pallbearers will be Trumann Senior Life Center.
Visitation will be Wednesday evening from 5:00 to 7:00 p.m. at Thompson Funeral Home.
An online register book can be signed at www.thompsonfuneralhome.net.