Wildcats win thriller over Westside in overtime
Thursday, October 6, 2016
Trumann (3-2, 1-1 4A-3) got a touchdown run from Cade Gartman in overtime to tie the game as Will White kicked the extra-point to give the Wildcats a 28-27 win over Westside this past Friday night at Wildcat Field.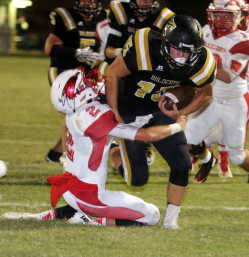 Westside got the ball first returning the Trumann kick-off out to midfield. The Warriors went to work on the ground as they drove the ball for a score on all running plays to make the score 6-0. Westside added the extra-point to make it 7-0 with 7:43 left. Trumann showed they could run the ball too as the Wildcats put together a 65 yard drive all on the ground with Gartman covering the last five yards for the score. White added the point-after to tie the game at 7 with 2:31 left. Westside started their next drive at their own 39-yard line as the quarter ended on the Warriors drive with the score still 7-7.
Westside took to the air on the first play of second quarter competing a pass down to the Trumann 16-yard line with 11:55 left. The Warriors coughed the ball up a couple plays later with Jay Morgan falling on the ball for Trumann at the Wildcat 30-yard line. Trumann drove the ball down the field and facing fourth and one Gartman powered his way into the end zone from ten yards out to make it 13-7 Trumann. White was again good on the extra-point making it 14-7 with 5:20 left in the half. Westside was forced to punt on their next possession as Terran Blanchard made a big stop on third down for the Wildcats. Westside's punt went out of bounds at the Trumann 33-yard line with 3:04 left. Gartman scampered 27 yards on the first play moving the ball to the Westside 40-yard line. A horse collar call wiped out a tackle for a loss or Westside but Trumann couldn't capitalize as Garrett Woods was sacked on fourth down turning the ball over to the Warriors on the Westside 38-yard line with 14 seconds left. Jarred Carter got to the Westisde quarterback for a sack on the last play of the first half sending the teams to the locker rooms with Trumann up 14-7.
Complete game article in October 6 PCDT on newsstands now!