Lions hear about ballot Issue 3
Friday, October 7, 2016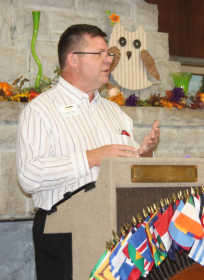 Trumann Chamber of Commerce Executive Director Neal Vickers spoke to the Trumann Lions Club recently about Issue 3, which will be one of seven ballot issues up for vote during the General Election. Issue 3, whose popular name is "An Amendment to the Arkansas Constitution Concerning Job Creation, Job Expansion, and Economic Development," was passed by the state legislature as Senate Joint Resolution 16 and would amend several sections of the Arkansas Constitution if approved by voters. According to Vickers, the amendment will make Arkansas more competitive economically with the surrounding states and "will cost none of us an extra dime in taxes."
Vickers said Issue 3 has three main tenets. First off, there is currently a five percent cap on state revenues that can be used to attract large economic development projects, such as Big River Steel in Mississippi County, which required a special legislative session to approve spending what was needed to bring them into the state. Vickers said the current five percent cap is only enough to bring in one super project a year. "Approval for a super project would still have to go through the legislature, but Issue 3 will take the cap off," Vickers said. "It will allow the legislature to do their work and compete with surrounding states that aren't capped."
Second, Vickers said it is currently illegal to take private funds and give them to a public company as an incentive. "It takes a lot to compete. That's why companies go to other states. They don't have that hindrance," Vickers said. Issue 3 would remove that hindrance.
And third, Issue 3 would allow cities, counties, and economic development commissions the ability to raise funds to provide economic development services, such as paying chambers of commerce to contract them for services.
Vickers said there would still be legislative oversight for super projects, but the amendment would greatly benefit economic development in the state. When asked by a Lion if this amendment benefited the common man, Vickers said, "Yes, it creates jobs." Vickers added that the most important thing Issue 3 can do for the man-on-the-street is that "it'll get more companies in our state and get more jobs."
"Issue 3 will give us a better chance of being on even footing to compete with the states around us," Vickers said.