Tyronza students congratulate Turner on being named Officer of the Year
Friday, October 7, 2016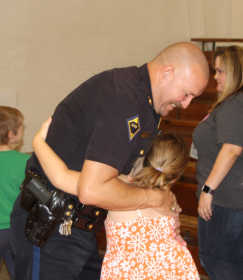 Tyronza Police Chief Tony Turner was in for a surprise when he responded to a call at Tyronza Elementary Monday morning. The whole school had gathered in the gym to surprise and congratulate him on being named the Poinsett County Officer of the Year. Turner received the recognition as part of the Arkansas Law Enforcement Summit, hosted by Arkansas Attorney General Leslie Rutledge at Camp Robinson in North Little Rock this week.
Tyronza Elementary Principal Sandi Carroll said that though the school does not have a school resource officer, Turner serves as an important part of the school. "I can't say enough about him," Carroll said. "He works to learn the name of every student. He is here every morning. Every chance he has, he's here walking the halls and making sure all the students' needs are met. He's just irreplaceable."
Turner said he was definitely surprised by the students and considers the school to be one of his top priorities as police chief. "I try to come down and assist any way I can. The school is a priority," Turner said. "I appreciate everything. The teachers and staff do an exceptional job. They are always patient with me when I'm bonding with the kids. I always get to bond with them and let them know I'm here for whatever they need."
A native of Caraway, Turner enlisted in the Arkansas National Guard 875th Engineer Unit following high school and served as a heavy equipment operator for four years. Turner volunteered with the Caraway Fire Department and then the Tyronza Fire Department when he moved to Tyronza. He also started working for Riverside Ambulance as an EMT in 1995. His first police position was as patrolman with the Marked Tree Police Department in 1999. He came to the Tyronza Police Department in 2001 and was named police chief in 2005.
Speaking about being recognized as Poinsett County Officer of the Year, Turner said the award was a credit to all the officers in the county. "We don't do this for recognition. We do it because it's a calling. We come to work to perform our best and do our best for our people," Turner said.
"For Poinsett County, it's a great accomplishment to even be considered, but I think it goes to all our brothers and sisters in law enforcement in Poinsett County. Especially given this day and age and what's happening, I think everyone in Poinsett County does a really good job. We all come together, train together, and work together. We have a great group of officers countywide, and it takes all of us," Turner said.