Tressie Juanita Thompson
Tuesday, October 11, 2016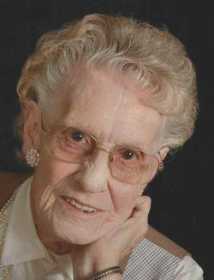 TRUMANN - Mrs. Tressie Juanita Thompson departed this life on Thursday, October 6, 2016 at Arlington Cove Nursing Home in Trumann, Ark., at the age of 93. She was born Sunday, May 13, 1923 in Lepanto and had lived most of her lifetime in Trumann. Mrs. Thompson was retired from Singer Company and a member of First Baptist Church. She was preceded in death by her husband, Jesse Willard Thompson; one son, Harrell Thompson; three grandchildren, Ronald Wayne Thompson, Jamie Thompson and Tammie Martin; three sisters, Jo Dement, Dorothy Allen and Maxine Osment; two brothers, Billy Pepper and James Pepper and her parents, Willie and Novella Viola Conatser Pepper.
She is survived by one son, Ronnie Thompson, of Batesville, Ark.; one daughter, Willa Faye Clem of Fort Smith; two sisters, Lois Fears of Batesville and Patsy Walker of Ethridge, Tenn.; one brother, Jack Pepper of Cotter, Ark.; nine grandchildren and several great-grandchildren.
Funeral services were held Saturday, Oct. 8 in the chapel of Thompson Funeral Home in Trumann with Rev. John Blackford officiating. Burial followed in Jonesboro Memorial Park Cemetery in Jonesboro, Ark.
Pallbearers were Randy Jones, Jim Osment, Melvin Bowman, Matt Brown, Ken Allen, Wes Osment and Mike Hogan.
Lasting memorials may be made to the First Baptist Church, P.O. Box 575, Trumann, AR 72472.
An online register book can be signed at www.thompsonfuneralhome.net