Junior Wildcats drop conference game to Gosnell
Thursday, October 13, 2016
Trumann (1-5, 0-4 4A-3) scored on their opening drive against Gosnell to take an early lead but then couldn't find answer for the Junior Pirates' running game as the visitors took a 26-6 win over the Junior Wildcats on homecoming night at Wildcat Stadium.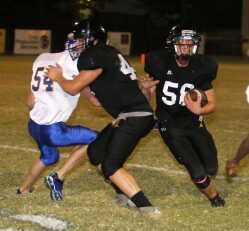 Trumann opened the game with Jaden Osment kicking an almost perfect onside kick that was recovered by Caleb Scudder at the Gosnell 45-yard line. The Junior Wildcats put together a drive the resulted in Osment scoring from two yards out to give Trumann a 6-0 lead. Chase Parrish was stopped on the two-point conversion to leave the score the same with 1:26 left. Scudder came up big again on the kick-off as Gosnell looked as if they may return the kick for a touchdown before Scudder brought the runner down at the Junior Wildcats' 33-yard line. Gosnell was deep in Trumann territory when the quarter came to an end with Trumann holding a 6-0 lead.
Gosnell tied the game at 6-6 with a touchdown run less than a minute into the second quarter. The two-point try was no good. Ben Woodruff couldn't get a handle on the ensuing kick-off and fell on the ball at the Trumann 34-yard line. The Junior Wildcats' offense sputtered and they had to punt the ball back to the Junior Pirates with 5;14 left in the first half. Gosnell found the end zone again on a touchdown run with 2:59 left to make the score 12-6. The two-point try was good making the score 14-6 Gosnell. Chris Webb returned the kick-off to the Trumann 48-yard line to set the Junior Wildcats up with good field position. Woodruff coughed up the football with Gosnell recovering at their own 47-yard with 1:56 left. Woodruff sacked the Gosnell quarterback a couple plays later forcing a fumble that was recovered by Junior Wildcat Luke Hicks at the Gosnell 42-yard line with 1:14 left. Trumann moved the ball in Gosnell territory before coming up short on fourth down giving the ball back to Gosnell with 14 seconds left. The Junior Pirates used the old hook and ladder play to reach the end zone as time expired to make the score 20-6 Gosnell. The two-point try was no good to leave the score the same as the teams went to halftime.
Full story in October 13 edition of PCDT!