Second half collapse costly for Hornets
Thursday, October 13, 2016
Harrisburg (0-6, 0-3 4A-3) played a great first half of football against Highland as they trailed 13-12 at the half. The Hornets self-destructed in the second half as Highland put up 29 points while hold Harrisburg scoreless to take a 42-12 conference win this past Friday at Hornet Stadium.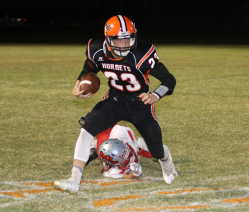 Harrisburg got the ball first to start the game with Noah Benintende taking the Highland squib kick and returning it to the Harrisburg 48-yard line. The Hornets were forced to pun the ball with 10:06 as Highland started their first drive on their own 20-yard line. The Rebels put together an 80 yard drive that ended with a touchdown run to make it 6-0 Highland with 5:17 left. The extra-point was good making it 7-0. Jameson King brought the ensuing kick-off out the Hornets' 42-yard for Harrisburg's next possession. Harrisburg moved the ball down to the Highland two-yard before a bad option pitched was recovered by Highland and returned tot he Harrisburg nine-yard with 1:41 left. The quarter ended with Highland having moved the ball out their own 32-yard line leading 7-0.
The Rebels coughed the ball up on the first play of the second quarter with Benintende recovering at the Highland 22-yard line with 11:53 left. Harrisburg moved the ball to the one-yard line when Nathan Wright hit Weston Stanford with a 21 yard pass. Wright finished the drive with a one-yard touchdown run to make it 7-6 Rebels. The two-point try was no good. Highland started their next drive on their own 41-yard line before they were forced to punt after AJ Stevens had a big quarterback sack for Harrisburg on third down with 7:55 left. Each team forced the other to punt on the next series of each team before Harrisburg put together a scoring drive late in the quarter. Starting at their own 47-yard line, Harrisburg moved the ball to just out the five yard line and faced fourth down with just under four yards to go. The Hornets got Highland to jump and the official moved the ball to the half-yard line where Versie scored to make the 12-7 Hornets. The extra-point was no good. Highland answered the Harrisburg drive as they moved the ball to the Harrisburg three-yard line on a big pass play before scoring on a touchdown run with ten seconds left. The point-after was no good to make the score 13-12 Highland. The score stayed the same at the half.
Full game article in October 13 edition of the PCDT on newsstands now!