Area sports roundup
Thursday, October 20, 2016
Marked Tree (4-3, 1-2 2A-3) used a balanced offense to beat Strong 34-18 in non-conference action this past Friday in Pine Bluff. Jack Brown completed six of eleven passes for 184 yards and two touchdowns to go along with 32 yards rushing a touchdown to lead the Indians. Coleman had 53 yards rushing with a touchdown and two-point conversion as Julian Booker also had 53 yards rushing and a two-point conversion. Kentarius Allen caught four passes for 91 yards and a touchdown as Coleman had a 73 yard touchdown catch. Braidin Hall, Chase Tilley and Coleman each had six tackles on defense as Allen had an interception and Tilley recovered a fumble.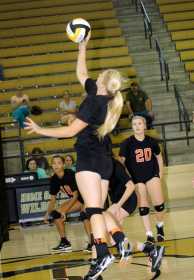 EPC (4-3, 2-1 2A-3) fell 29-24 to Salem this past Friday night in Salem. EPC hurt themselves with missed opportunities on four two-point conversion plays. Chanc Gray finished the night with 103 yards passing with a touchdown to go along with 44 yards rushing and a touchdown. Eric Driver led the team in rushing with 96 yards and a touchdown as Trevor Walker gained 67 yards rushing and a touchdown. Dee Buchanan had one reception for a touchdown. Gray led defense with ten tackles as Heath Cavitt had an interception.
Marked Tree's Junior Indians (2-4, 2-3 2A-3) went on the road and lost 30-0 to the Rector Junior Cougars this past Thursday. Lane Thompson led the offense with 11 yards rushing as Cameron Wray finished with six yards rushing. Michael Williams led the Junior Indians' defense with nine tackles as Wray totaled five tackles on the night.
The EPC Junior Warriors (3-3, 3-2 2A-3) came away with a 22-16 conference win over Cross County this past Thursday night. Hank Knapp had 67 yards rushing with two touchdowns and two two-point conversions to lead the EPC offense. Austin Baker added 89 yards rushing and a touchdown with Preston Rains rushing for 41 yards. Knapp led the defense with 10 tackles as Candon Argo and LaDavion Holmes each had seven tackles. Drew Lung had an interception for EPC.
Harrisburg punched their tickets to the Class 4A state volleyball tournament this past Monday with a their 23-25, 25-17, 25-22, 25-16 win over Highland at the 4A-Northeast tournament in Trumann. Olivia Deckelman and Destany Lovell had 11 and 9 kills respectively to lead Harrisburg. Emily Newcomb finished 32 of 34 serving with 5 aces, Lacey Lambright had 18 digs as Shaw Faulkner served 14 of 15 while adding 18 digs. The Lady Hornets were back in action this past Tuesday as they faced Westside in the semi-finals. Harrisburg fell in straight sets, 25-18, 25-18, 25-10, to the second-seeded Lady Warriors. The Lady Hornets hit the hardwood again Wednesday against Pocahontas in the third place game.
Trumann lost 25-10, 25-18, 25-10 to second-seeded Westside in the 4A-Northeast volleyball tournament this past Monday in Trumann. The loss ended the Lady Wildcats season at 5-16 overall and 3-7 in conference play. Sydney Callahan has 17 digs for the Lady Wildcats as Jana Morgan added three kills and three digs with Haley Carter finishing with two kills and four digs.
The Trumann Junior Lady Wildcats took third place in the 4A-3 district tournament. Trumann beat Harrisburg in the opening round before falling to eventual district champion Westside.