Junior Wildcats shutout county rival Harrisburg
Thursday, October 20, 2016
Trumann (2-5, 1-4 4A-3) jumped out to an early 16-0 before cruising to a 34-0 win over conference and county rival Harrisburg (2-5, 0-5) this past Thursday night at Hornet Stadium.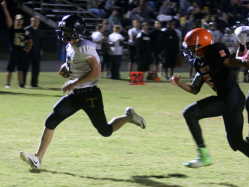 Trumann got the ball first to start the game with Ben Woodruff returning the kick-off to the Junior Hornets 49-yard line. Chase Parrish did most of the work for the Junior Wildcats on the opening drive as he dashed 20 yards on the first play before capping the drive an 11 yard touchdown with 5:18 left. Woodruff added the two-point run to make the score 8-0 Trumann. Harrisburg got the ball on their own 39-yard line after the kick-off went out of bounds. The Junior Hornets had trouble moving the ball and were forced to punt. Dedrick Coleman returned the punt for Trumann to the Harrisburg 35-yard where a face mask penalty moved the ball forward five more yards giving the Junior Wildcats the ball at the 30-yard line with 3:42 left. Jaden Osment scored on the first play from scrimmage after the punt racing 30 yards to make it 14-0 with 3:36 left. Jonah Haynie ran in the two-point conversion to make ti 16-0 Trumann. Marquel Miller had a big kick-off return for the Junior Hornets returning the ball to the Trumann 39-yard line. Harrisburg put the ball on the ground a few plays later with Jackson Walton recovering for the Junior Wildcats at the Harrisburg 38-yard line with 2:43 left. The quarter ended during Trumann's drive with the Junior Wildcats leading 16-0.
Trumann started the second quarter facing second and five on the Harrisburg 44-yard line before they were forced to punt the ball away giving the Junior Hornets the ball on their own 23-yard line with 6:44 left. Harrisburg moved the ball out to midfield with a Brennon Honeycutt to Daniel Woodson pass with a Trumann face mask penalty added on. Coleman stepped in front of a Clay Wright pass a few plays later to give Trumann the ball on their own 47-yard line. Trumann capitalized on the turnover with a touchdown drive capped off by Parrish sprinting 25 yards for the score. Woodruff was stopped on the two-point try to leave the score 22-0 Junior Wildcats with 1:04 left before half. Harrisburg started their next drive on their own 36-yard line. Wright had a big run moving the ball to midfield before hitting Honeycutt with a pass to the Trumann 24-yard line with eight seconds left. The clock ran out to stop the Junior Hornets' drive as the Junior Wildcats took a 22-0 lead into halftime.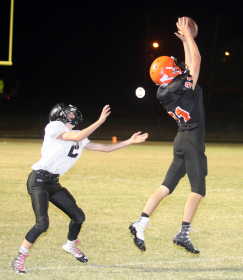 Full game story in October 20 edition of PCDT!