Lady 'Jackets beat Marmaduke in season opener
Thursday, October 20, 2016
Bay (1-0) got 20 points from Whitlee Layne as the Lady Yellowjackets posted a 58-42 win over Marmaduke (0-1) in the season opener for both schools.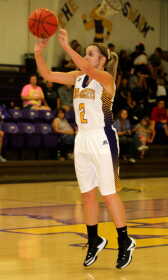 Bay's Mallory Hartley opened the scoring with one of two free throws for 1-0 Bay lead before Tabitha Hyten hit two of three free throws for the Lady Greyhounds to make it 2-1 Marmaduke, their only lead of the night. Bay rolled off the next 15 points to take a 16-2 lead with 3:43 left. Abby Frisby and Layne canned back to back three-pointers, Layne hit a jumper before adding two free throws, Kaylee Crain scored in the paint and Sidney Higgins netted a three-pointer. Lady Greyhound Anna Meredith stopped the Bay run with a three-pointer to make the score 16-5. Layne hit another jumper before Marmaduke got back to back jumpers from Natalie Lentz and Jordan Mays in the last minute to make the score 18-9 Bay after one.
Shelton opened the second quarter with a rebound basket followed by a three-ball to cut the Bay lead to 18-14. Frisby got inside for a Bay score as Lentz got a steal and layup to make the score 20-16 Lady Yellowjackets with 4:32 left. Bay scored the next eight points with Layne hitting two free throws, Shelby Corn hitting one of two free throws, Layne with a stick back off a rebound and Tot Diaz converting a conventional three-point play to make 28-16 Bay with 4:00 left. Jordan Mays hit a jumper in the lane for Marmaduke before Higgins hit a jumper followed by a three-pointer for Bay to make it 33-18 Lady 'Jackets. Corn hit two free throws with five seconds left to make the score 35-18 Bay at the half.
Full game story in October 20 edition of PCDT!